Weeping willows lean over the calm waters,
tufts of long grass sit on the water edge;
in the peak of summer with a green palette,
the artist dabs color to the slender sedge.

Over the flower-laden waters of lovely Ru,
above the water-lilies tinted in white hue,
a quaint wooden bridge lies over the brook,
stained in mild strokes of a striking blue.

Deep is the pigment that coats the foliage,
bright is the dye that blurs the reflections;
strewn with water lilies gushes the brook,
Monet's own garden is painted to perfection!

The scenery vibrates with fresh cool tones,
no distinctive outlines are drawn and seen,
giant clumps of reed blend into the brook,
Monet's art palette is flushed with green.

So picturesque is Giverny's garden scene!
A jubilant celebration of verdant green!
A landscape where varied shades coalesce,
a canvass were art and artist effervesce!


© by Leah Chrestien.
Used here with the authorís permission.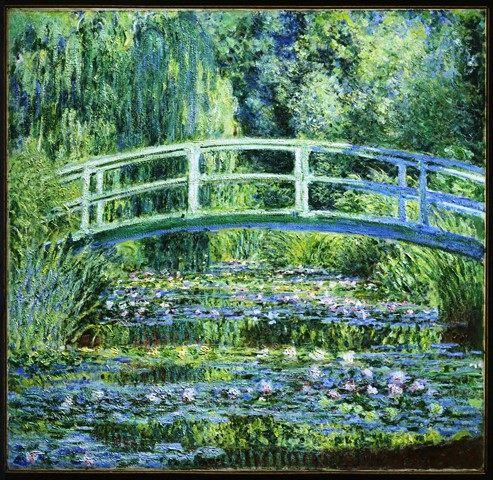 Water Lilies and Japanese Bridge by Claude Monet, 1899
†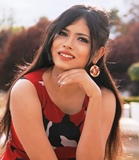 Leah Chrestien lives in Prague, Czech Republic. A programmer by profession, she writes poetry in her free time. Leah enjoys playing the piano, traveling, and baking aesthetically-pleasing cakes. Her debut collection of poetry is scheduled for release later this year. Learn more about Leah at theecstaticstoryteller.com.
†
Leah :
A big thank you to all who read and appreciated my poem . 🙏
Posted 11/24/2023 08:19 PM
Anastasia:
Beautiful words to match a beautiful painting! Well done, Leah!
Posted 11/21/2023 05:33 PM
Lori Levy:
Beautiful poem that goes beautifully with the painting.
Posted 11/14/2023 01:16 PM
KevinArnold:
If shed had American training, she may have been discouraged from all those exclamation points! Lucky her!
Posted 11/14/2023 11:22 AM
Jancan:
Lovely poem describing a lovely scene!
Posted 11/14/2023 10:54 AM
Larry Schug:
this works very nicely.
Posted 11/14/2023 09:28 AM
David:
We were fortunate enough to visit Monets garden in Giverny, and this poem depicts it wonderfully.
Posted 11/14/2023 08:53 AM
Michael:
Thank you for your heart-felt response, Leah, to one of the great painters of his era and perhaps of any era.
Posted 11/14/2023 08:45 AM
Joan Luther:
One of my favorite paintings! Gentle likeness, poetically beautifying Monets work. Lovely poem!
Posted 11/14/2023 06:44 AM