Lord, I hate to complain,
But this ranch is needin' rain;
Some comin' day, please find a way
To bring a little rain . . . .

. . . .The road is slick from all this rain,
And ain't it just my luck,
The trailer slid off in the ditch,
And now the pickup's stuck.

I'm glad Ol' Brownie isn't hurt,
I'll have to ride him in.
I left my slicker on the porch,
I'm wet through to the skin.

But I won't cuss the rain,
The valley's green again;
We'll still be here this time next year,
I never cuss the rain.

The rain's been fallin' now, a week,
The brandin's had to wait;
The river's runnin' high and wide,
The spring work's runnin' late.

Our cattle guard is washin' out,
The ranch is mired in mud,
The roof has sprung another leak;
I ponder Noah's flood.

But never cuss the rain,
The tanks are full again,
In tall grass hay, the calves will play,
I'm grateful for the rain.

The storm has moved off toward the east,
A rainbow's in the sky.
There's new snow on the mountain peaks,
The sun is shinin' high.

A warm wind's blowin' 'cross the hills,
The lilacs are in bloom,
The ground is dryin' out real fast,
We'll be a-brandin' soon.

My woman loves the rain,
Our world is new again;
Blessed from above with life and love,
Dear Lord, thanks for the rain.

Don't ever cuss the rain,
The valley's green again;
We'll still be here another year,
Don't ever cuss the rain.


From A Bard in Boots (Arizona Cowboy Connection,
Publishings of Sall Harper Bates, 2022)
Used here with permission.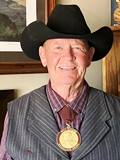 Darrell Arnold has been writing poetry for more than forty years. He was an associate editor at Western Horseman magazine for five years, then launched his own publication, Cowboy Magazine, which ran for nearly eighteen years. Poetry, primarily cowboy poetry, was an integral part of both publications. In the early '90s, Darrell started turning his poetry into songs and has now had more than 20 poems recorded by various western singers; three of them--including this one--have earned "Song of the Year" awards from Western Writers of America and the International Western Music Association. Darrell continues to write poetry and has extended an open invitation to cowboy singers everywhere to team up with him to make more memorable songs. For details and special pricing on his books, contact him at P. O. Box 3097, Colorado City, AZ 86021.
Anastasia:
The rain may be a temporary inconvenience, but living in drought is an ongoing problem. I'll take the rain, any day!
Posted 11/21/2023 08:33 PM
KateTompkins:
A good way to look at life. I like it.
Posted 11/17/2023 08:40 AM
Arlene Gay Levine:
Bravo, Darrell, for your awards on a great poem/lyrics...also loved the musical rendition by Tom Hiatt. Hats off to you both!
Posted 11/16/2023 04:44 PM
Jancan:
Wonderful, inspiring song lyrics!
Posted 11/15/2023 11:52 PM
Tracers645:
Good poem...Thanks!
Posted 11/15/2023 06:16 PM
Lori Levy:
Great poem! Congratulations on your achievements!
Posted 11/15/2023 01:19 PM
KevinArnold:
With the recording, I feel Im watching a local boy makes good story.
Posted 11/15/2023 01:15 PM
Larry Schug:
Another beauty, Darrell. The weather is only the weather. We need it all, though it chooses wen it comes and goes.
Posted 11/15/2023 11:44 AM
Michael:
Let me add my congratulations to the long list below, Darrell. Wonderful example of the ballad form (alternating 8 and 6 syllable lines with iambic stresses). Accolades all well-deserved.
Posted 11/15/2023 11:21 AM
Wilda Morris:
Well done! A wonderful poem.
Posted 11/15/2023 11:16 AM
Judy:
Congratulations, Darrell, on such wonderful creative achievements! And, being a farm wife, I agree--never cuss the rain!
Posted 11/15/2023 10:42 AM
Tom Sharpe:
Congratulations Darrell
Posted 11/15/2023 10:15 AM
cork:
May deserved praise rain upon you.
Posted 11/15/2023 09:46 AM
mjorlock:
Congratulations on the book award and song!
Posted 11/15/2023 09:29 AM
Angela Hoffman:
Congratulations on both! How exciting.
Posted 11/15/2023 08:48 AM
pwax:
Congratulations on both honors! Well deserved! I, too am looking forward to hearing the song.
Posted 11/15/2023 08:36 AM
Sharon Waller Knutson:
I was singing along with the poem. It was delightful and charming. Tell Daryl to send some rain to the Phoenix area. We are dry and thirsty.
Posted 11/15/2023 07:52 AM
Joan Luther:
Congratulations ‼️👏💫. Looking forward to hearing the song. Thank you for sharing your wonderful words 🙏🏻‼️💧☔️🌦️
Posted 11/15/2023 07:02 AM
mail@schoolbusmart.com:
😀👍 Great piece! Congratulations on all the honors! Randy Mazie
Posted 11/15/2023 06:56 AM