Red maples trumpet their glorious song.
Yellow-poplars join the duet
As leaves scudding across pavement
Provide percussive accompaniment.

Beech and bitternut hickory
Drop nuts, drumming the forest floor.
Slippery elm and American holly
Dance to their own polka.

Black tupelo's scarlet tune
Warbles among lofty walnuts.
Hickory and red oak blend
With sycamoreís violin libretto.
†† †††† †††
Mother Natureís autumn chorus
Rolls across the Appalachians, †
Its mystical music
A seasonal symphony.


© by Lorraine Bennett.
Used here with the authorís permission.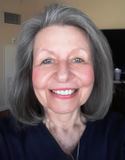 Lorraine Bennett is a print, web, and broadcast journalist who has worked for the Atlanta Journal, the Cherokee Scout, the Los Angeles Times, and CNN. A graduate of UNC Chapel Hill, Lorraine, in retirement, writes essays, short stories, flash fiction, and poetry, and continues to utilize her journalism skills by copy editing, covering town council news, and writing articles for the Clay County Progress in Hayesville, North Carolina, where she lives. Lorraine's award-winning work has appeared in a variety of venues, and her first novel, a psychological thriller titled Cat on a Black Moon, was published this past spring.
jamvan:
I love it - musical, lyrical and sublime
Posted 11/20/2023 05:01 AM
Jancan:
Lovely, expressive analogy!
Posted 11/17/2023 07:24 PM
Anastasia:
This is beautiful, Lorraine! Thank you!
Posted 11/17/2023 04:53 PM
Wilda Morris:
Lovely imagery - and I like the chorus metaphor a lot.
Posted 11/17/2023 02:51 PM
Lori Levy:
Beautiful portrayal of "autumn music." I can see it and hear it.
Posted 11/17/2023 01:08 PM
Michael:
Your poem places me in the middle of Autumn's music . . . showing that poetry is to be both "heard" and read. Thank you, Lorraine!
Posted 11/17/2023 09:07 AM
Sharon Waller Knutson:
I loved this musical photographic poem. It was like watching a video of the Appalachians in autumn. I could see the beauty in the maple, poplar, beech, butternut hickory, black tupelo and sycamore and hear the nuts falling, the violin vibrato and scarlet tune.
Posted 11/17/2023 09:04 AM
Larry Schug:
"Black tupelo's scarlet tune--WOW! I especially like this verse.
Posted 11/17/2023 08:10 AM
Joan Luther:
Enjoyed the autumnal imagery!
Posted 11/17/2023 07:25 AM