An Excerpt
†We walk on starry fields of white
†† And do not see the daisies;
For blessings common in our sight
†† We rarely offer praises.
We sigh for some supreme delight
†† To crown our lives with splendor,
And quite ignore our daily store
†† Of pleasures sweet and tender.
Our cares are bold and push their way
†† Upon our thought and feeling.
They hand about us all the day,
†† Our time from pleasure stealing.
So unobtrusive many a joy
†† We pass by and forget it,
But worry strives to own our lives,
†† And conquers if we let it.
Thereís not a day in all the year
†† But holds some hidden pleasure,
And looking back, joys oft appear
†† To brim the pastís wide measure.
But blessings are like friends, I hold,
†† Who love and labor near us.
We ought to raise our notes of praise
†† While living hearts can hear us.


This poem is in the public domain.
†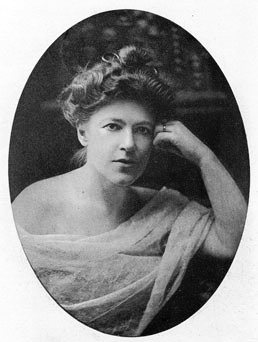 Ella Wheeler Wilcox (1850-1919) was a popular and prolific poet. Published and lauded before she even graduated from high school, Ella preferred to write happy, upbeat poetry and was much beloved for it. More than a dozen of her poems are included in the book, Best Loved Poems of the American People (Doubleday, 2008). The familiar saying, "Laugh and the world laughs with you, weep, and you weep alone. . ." comes from her best-known poem, "Solitude." A morally strong and spiritual person, Ella believed that her purpose on earth was to practice kindness and service. Read more about her here.
Tracers645:
Beautifully written! 💖
Posted 11/20/2023 12:39 PM
Larry Schug:
camille, Kevin, I agree with paradea, Camille, Kevin, Michael, David, Kelly, Darrell and Norma.
Posted 11/18/2023 02:15 PM
paradea:
Absolutely love this poem!! What a wise woman!
Posted 11/18/2023 01:00 PM
CamilleBalla:
Wise, wonderful message from yesterdays and todays Poetess Ella Wilcox! Thank you, Jayne, for sharing this.
Posted 11/18/2023 11:36 AM
CamilleBalla:
Wise, wonderful message from yesterdays and todays Poetess Ella Wilcox! Thank you, Jayne, for sharing this.
Posted 11/18/2023 11:36 AM
KevinArnold:
Great final couplet.
Posted 11/18/2023 10:54 AM
Michael:
Love the lilting cadence of Ella's lines.
Posted 11/18/2023 10:39 AM
David:
Excellent poem and sentiment. The last two lines are especially outstanding.
Posted 11/18/2023 10:33 AM
Kelly Scott:
I wish I wrote this poem. It is so profound and at the same time beauty to the ears.
Posted 11/18/2023 10:12 AM
Darrell Arnold:
There are a lot of people in the world who do as Ella suggests and, more than find, notice, and appreciate the small pleasures, insist on making their days positive and pleasurable. I count myself among them. I refuse to have bad days. I notice the little things, of course, and I Thank God for them, but I also try to encourage other people to feel and act the same way. When I tell them, I don't believe in bad days, almost all of them express appreciation for that attitude. People want to be happy. Why not help them be that way? Ella is inspirational.
Posted 11/18/2023 08:26 AM
NormaB:
So much wisdom in this poem!
Posted 11/18/2023 07:14 AM