Do not expect that if your book falls open
to a certain page, that any phrase
you read will make a difference today,
or that the voices you might overhear
when the wind moves through the yellow-green
and golden tent of autumn, speak to you.

Things ripen or go dry. Light plays on the
dark surface of the lake. Each afternoon
your shadow walks beside you on the wall,
and the days stay long and heavy underneath
the distant rumor of the harvest. One
more summer gone,
and one way or another you survive,
dull or regretful, never learning that
nothing is hidden in the obvious
changes of the world, that even the dim
reflection of the sun on tall, dry grass
is more than you will ever understand.

And only briefly then
you touch, you see, you press against
the surface of impenetrable things.
From Daily Horoscopes (Graywolf Press, 1986).
Used with the author's permission.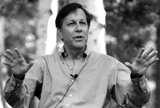 A native Californian of Italian and Mexican descent, Dana Gioia (pronounced JOY-uh) is an internationally acclaimed and award-winning poet. Dana is the author of three full-length collections of poetry, as well as eight chapbooks. His nonfiction book, Can Poetry Matter?, is credited with helping to revive the role of poetry in American public culture. Dana's work has appeared in many magazines including The New Yorker, The Atlantic, and The Hudson Review, and he has written two opera libretti. A marketing executive for many years before he became a full-time writer, Dana served as chairman of the National Endowment for the Arts from January 2003 until January 2009. In that role, he significantly impacted the role of the arts in America, launching such projects as Poetry Out Loud and The Big Read, and undertaking massive surveys on arts awareness and participation in American society. Dana is currently director of the Harman-Eisner Program in the Arts at the Aspen Institute. Learn more about him at www.danagioia.net.
mimi:
true and lovely poem. Finally, we are grateful for just a glimmer of understanding...
Posted 10/26/2010 04:07 PM
dotief@comcast.net:
So profound. Brutal in its beauty and honest in its message. Some things are beyond understanding, and understanding that makes life have its meaning. Loved this poem!
Posted 10/26/2010 08:46 AM