There is a tall spindle on my lawn
to see the top I must arch my neck.

Stuck on it are the would haves,
could haves and should haves
of my life, color coded slips
blue, for unsent donations,
pink, for unanswered messages
and yellow for forgotten dry
cleaning. They flutter in a gale

of lost choices. As time passes
the steel needle will lean
like the tower in Pisa. Some day
it will topple and I will be pinioned
to the ground surrounded by pastel
mounds of the unfinished.

© by Helen Padway.
Used with the author's permission.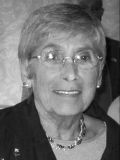 Helen Padway (1926 - 2022) was theater-trained and worked in television and radio, both writing and performing. She enjoyed her family and was the proud mother of four, grandmother of fourteen, and had one great-grandchild. Helen lived in Glendale, Wisconsin and was a member of the Sparks and the Hartford Avenue Poets. Published both locally and nationally, she believed poetry could help change the world.
Ysnarps:
Thank you for helping us to see the world through other eyes. Amazing!
Posted 10/19/2011 10:54 PM
Joe Sottile:
Yes, it is a poem for the universe...I love the last line of the bio, "She is young enough to think that poetry can help change the world." Yes, poetry can save the planet.
Posted 11/29/2010 11:51 AM
wendy morton:
as hard as I try the should haves shadow me, and helen's fine poem made me laugh and of course, feel guilty.
Posted 11/29/2010 11:33 AM
Ralph Murre:
A great piece, Helen.
Posted 11/29/2010 10:01 AM
vawomann:
LOVE it! The leaning tower of "Later!"
Posted 11/29/2010 09:03 AM
gigi:
Wow, if this isn't a poem for the universe, nothing is.
Posted 11/29/2010 06:13 AM