I wake to a duotone picture—
pink lake and clouds,
gray mountains, diving gulls.

Then sunshine reaches 'round Bell Mountain,
catches the birds, illuminates them bright white.
More seagulls than usual this morning,
delicate as tissues floating from the sky.

One comes close to my window,
rhythmic wings with black tips.
He dives toward his reflection,
an image so clear on still lake,
it looks like two birds will collide.

Their morning chores complete,
fifty or more flock harmoniously at the sandbar.
Yet on the water, they go solo.
Each glides alone, trailing a gleaming wake.

Gulls winter here.
Like all fleeting things, they're special to me.
But, in this January of record lows,
why didn't they venture farther south?

Maybe the birds come for the same reason I do:
to dance among mountains,
where melodies—migrated on lips and fiddles—
still hover, preserved for gull generations
and for those who join their ancestral reel
through crisp Appalachian air.
?

This poem first appeared in Echoes Across the Blue Ridge (Winding Path Publishing, 2010).
Used here with the author's permission.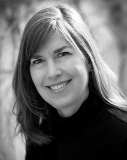 Karen Paul Holmes is a freelance business writer, poet, and writing workshop leader who splits her time between Atlanta and a beloved cottage in the Blue Ridge Mountains. Karen is the author of Untying the Knot (Aldrich Press 2014), which tells a story of loss and healing "with grace, humor, self-awareness and without a dollop of self-pity," says poet Thomas Lux. She enjoys classical music, theater (especially comedies), Ikebana, contra-dancing, ballroom, and spending time with her two Welsh Terriers and new "late life" beloved. Learn more about Karen at www.simplycommunicated.com or www.facebook.com/karenholmespoetry.
Jo:
A beautiful poem,and space for the reader to journey to where you are-- to sit and watch the gulls so vivid, the scenery calm and lovely. Jo
Posted 01/11/2011 12:45 PM
dianapoet:
Beautiful images
Posted 01/10/2011 08:05 PM
Shelly:
Beautifully written. I can imagine the scene, sitting with a big cup of coffee and wearing a fluffy bathrobe. A divine way to start a day.
Posted 01/10/2011 03:57 PM
Andrea:
Beautiful. Vivid. I didn't know seagulls hang out at such places.
Posted 01/10/2011 02:17 PM
diana.anhalt:
Wonderful poem. So honest and straight-forward. Just like Karen. Diana Anhalt
Posted 01/10/2011 10:54 AM
Linda Lee (Konichek):
What a perfect poem of place; I feel as if I'd been there and can see and feel these beautiful images.
Posted 01/10/2011 10:41 AM