To lie in bed
this morning of a snow
when neither of us
has to go
anywhere for hours

at least. To sprawl
and talk of what
we hope for.
Better, what we know
the years will bring

and contemplate
just knowing
we can see it all
up there
on the ceiling

all aglow,
our life
played out
in color now,
this morning of a snow.
© by Donal Mahoney.
Used with the author's permission.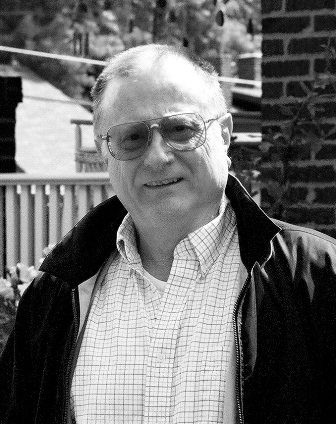 Donal Mahoney lives in St. Louis, Missouri. A native of Chicago, he spent the early Seventies actively submitting poems to print journals and enjoyed some success. He then took a 35-year hiatus from poetry to work as an editor of prose at such lofty establishments as the Chicago Sun-Times, Loyola University Press, and Washington University in St. Louis to support and educate five children. Upon retirement, Donal took to his recliner, and was perfectly happy sitting and listening to Gregorian chant all day. After three years, however, his wife interrupted with a Gregorian chant of her own. She bought Donal a computer and showed him where the boxes of still-unpublished poems had been stored in the basement for many years. Thus Donal began actively submitting again in June 2008. He has since had nearly three hundred poems published here and abroad, an achievement he credits largely to his wife.
Joe Sottile:
I meant to say "In the Rochester, NY area"...Ah, it's late and snow is in the air.
Posted 01/11/2011 10:52 PM
Joe Sottile:
In the Rochester,NY, we have a number of Snow Days per year, which this well written poem reminds me of. Snow Days are pure joy to school children and teachers--unless you help blowout all the elderly neighbors on your block--been there, done it.
Posted 01/11/2011 10:49 PM
Phyllis Beckman:
I wonder if this describes my son and daughter-in-law Darlene who live in Atlanta and whose teen age sons were probably out at dawn in glee, making a ruckus and rolicking in the precious gift of a snow day.
Posted 01/11/2011 08:48 AM
Carol Hauer:
It was definitely worth getting out of the recliner to share such lovely thoughts as "This Morning of a Snow." What a nice way to start a day with snow in the forecast.
Posted 01/11/2011 08:15 AM
dotief@comcast.net:
Such a lovely feeling is stirred by this poem. Very nice!
Posted 01/11/2011 07:41 AM