There was a time when I would take a Little Tykes hammer
and tap the first blades of green back into the ground,
the sign of spring being much too soon for me,
as I was just getting used to
winter's bare expanse in my surrounding world. I loved
the tall, slender starkness of tree trunks, 
the spread of silver branches etching form into brand-new form,
each day awaiting a new vision of simplicity that
might catch my eye, its light bright enough to shut out
even a single ray of sunshine, in my well-intentioned mind,
but now, 
it is the viciousness of daffodils that causes me to wince,
unprepared as yet
for the flash of spring to bare its unbuttoned bottom 
and burst into a belly dance. 
I know and welcome its coming, as all must do,
but tell me,
do you not wish for the sight of searing death, when so blanketing
a scene as spring covers the earth, when we must
wave goodbye to winter's tooth and bone, 
even as we break new ground with laughter soft as leaves?
Tell me, do you not wish for these?
When I told my husband I was writing a poem
about the vicious color of daffodils,
he blurted out,
have you seen the daffodils 
at the edge of the school? It looks like
they're marching out of the woods to attack, 
all lined up like soldiers, 
coming right up over that hill—
See, I told you daffodils are vicious,
poems sneaking up on you
when you least expect them,
and to think, like any such advances,
they were only following orders. 


© by Suzanne Comer Bell.
Used with the author's permission.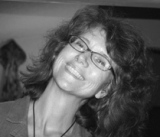 Suzanne Comer Bell is a writer and teacher of young children. In her twenties, she worked in book publishing, then became a freelance editor. Over the years, as she nurtured the words of others, Suzanne's own voice evolved. She began writing feature articles for regional magazines, and poetry, mostly for family and friends, and mostly for the sake of the feeling and beauty of the words. Suzanne lives with her husband and two daughters in Brevard, North Carolina.
Ben Bulben:
A refreshing voice--and a startling, arresting take on the coming of spring!
Posted 03/21/2011 11:45 AM
LindaCrosfield:
Oh, how l love how you ended it..."poems sneaking up on you", and me taking a moment to look at YDP while at a poetry retreat! Perfect!
Posted 03/19/2011 04:54 PM
comer4:
Wow. I appreciate so much the sensitivity of your comments. As it turns out, I was to meet with searing death in an immediate way yesterday. My husband and I had the make the unexpected decision to put down our oldest cat, who had grown feeble and showed back up after going away for several days. It hurts. But, I know, I must now turn my head to spring. Thank God for daffodils.
Posted 03/19/2011 02:30 PM
Ginny C.:
This poem stands out for the originality of some of the lines and of its perspective. I agree with Phyllis: I like the voice in this poem.
Posted 03/19/2011 09:33 AM
Phyllis Beckman:
I choose to "march with your militia", Suzanne Comer Bell. I like your voice.
Posted 03/19/2011 06:08 AM
Leslie Holt:
"...do you not wish for the sight of searing death, when so blanketing/a scene as spring covers the earth, when we must/wave goodbye to winter's tooth and bone..." I do. You are the first to show me this, the first to put it into words for me. Thank you.
Posted 03/19/2011 05:25 AM