I lie here in bed, my cheek against your shoulder,
remembering a night, long ago, on your boat.
I was afraid. I felt too much, too fast.
But you were tender, and love crept over us
like silver fog, silent on the lake.
We were never again the same.
We stepped like children through that door that led
to long passages unknown, holding hands, wide-eyed, but brave.
Here I am years later, listening to your soft breath
and feeling your warm smooth skin.
In the dark, now might as well be then.
From Now Might As Well Be Then (Finishing Line Press, 2009)
Used with the author's permission.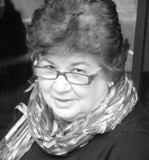 Glenda Beall was raised on a farm in Albany, Georgia, and taught school for many years before relocating to western North Carolina. Widely published in journals, anthologies, newspapers, and magazines, she now teaches writing classes for adults and served for several years as Program Coordinator for the western branch of the North Carolina Writers Network. To learn more about Glenda, visit http://glendacouncilbeall.blogspot.com.
rhonasheridan:
This made me cry. Beautiful.
Posted 08/07/2014 12:38 AM
poetronics:
love, love..... beautiful, authentic voice. Thank you..
Posted 08/05/2014 11:44 PM
marenomitchell:
Lovely, Glenda! Good to reread.
Posted 08/05/2014 05:48 PM
Jo:
Oh so beautiful.
Posted 08/04/2014 09:34 PM
njc:
oh oh oh.....yes.
Posted 08/04/2014 10:30 AM
WilliamEverett:
So good to see this poem, Glenda. One of your best -- passionate, evocative, tender. Thank you.
Posted 08/04/2014 09:08 AM
Marilyn L Taylor:
Very effective love poem. Nicely done, Glenda.
Posted 08/04/2014 08:55 AM
Cindy:
nice job; love the last line
Posted 08/04/2014 08:49 AM
paradea:
Wonderful!
Posted 08/04/2014 08:00 AM
erinsnana:
I loved this! It made me miss my late husband...
Posted 08/04/2014 07:20 AM
TheSilverOne:
Beautiful, tender love poem
Posted 08/04/2014 06:30 AM
Ginny C.:
very lovely especially the last line
Posted 08/04/2014 12:10 AM
jtmilford:
Beautifully expressed.
Posted 08/03/2014 08:36 PM