Road crew -
The work takes
one man.
The watching,
three.
This poem first appeared in The Middlewesterner.blogspot.com.
Used here with the author's permission.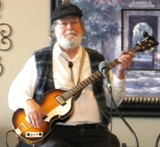 Tom Montag was raised on an Iowa farm, but now lives in Wisconsin. Retired from a career in the printing industry, he is the author of several books of poetry as well as several books of prose. He's also a songwriter and plays bass, as often as he can. Tom teaches creative nonfiction and poetry at The Mill: A Place for Writers, in Appleton, Wisconsin, and his work has appeared in numerous literary magazines. With David Graham, he is currently editing an anthology of poetry about small towns. Tom's poem, "Lecturing My Daughter on Her First Fall Rain," has been incorporated into the permanent design of Milwaukee's Convention Center, along with the work of other Wisconsin writers. Learn more about him at www.middlewesterner.com.

mimi:
At least!
Posted 08/05/2014 09:36 AM
jeanie:
my mom always said someone has to do the heavy onlooking.
Posted 08/05/2014 07:58 AM
Gary Busha:
Yes. Brief and to the point. Succinct. Yes.
Posted 08/05/2014 07:44 AM
paradea:
Three, at least...always!!! Love it!
Posted 08/05/2014 07:05 AM
jonidee61:
Love it!
Posted 08/04/2014 11:43 PM