—After Mary Oliver
Since you asked, Mary, I'm sitting in traffic
nowhere near the swan or the grasshopper
waiting for the light to change, cold December rain

splattering the windshield, wipers beating like the heart
of the doe that comes to you in the forest, eyelashes
flickering over a tender leaf, and yes,

my life is wild, like yours, if the breathless excitement
of my idling in a gray Honda Accord EX
with leather seats and 2.4 liter engine

can be compared to your lying in tall grass
while contemplating migrating clouds and waiting
for a grey owl with a valentine-shaped face

to swoop down like darkest death to remind you
your life is precious. Ah, but you asked me
what I plan

to do with my life, and I have described
a mere moment. What I plan is
a thrilling day at the office where my Dell

Latitude laptop will open
its one wing and pull
me into its black pond where icons

float like lily pads and wait to be nibbled
by a mouse. My office phone will crouch
to the side, a silent bear sunning itself

in the blaze of a long fluorescent tube
until I reach for its one black claw. That
is what I plan.

And before I go further,
you should know that I planned to be
a pilot, an astronaut, an admiral,

to learn Spanish, win the lottery, run
for Congress, but all those fragile parchments
were rolled up

and put back into their tubes long ago, leaving me
with the wild and precious idea that tonight, Mary,
I plan to finish your book.

From Punching Through the Egg of Space (Main Street Rag Publishing Co., 2010).
This poem first appeared in Iodine Poetry Journal (Spring/Summer 2010).
Used here with the author's permission.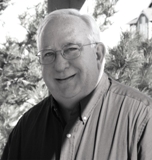 Richard Allen Taylor lives and works in Charlotte, North Carolina, as a Regional Human Resources Manager for a retail automotive dealership group. A graduate of the University of North Carolina at Chapel Hill, Taylor, having no idea he might someday want to be a poet, passed up an opportunity to double major in psychology and English because he did not care to enroll in the two semesters of poetry required for the English degree. After dabbling in poetry in his late 20s and early 30s, he abandoned poetry completely until, encouraged by friends, he picked up the pen again in his 50s. His first poems were published in 2002. Since then, his poetry has appeared in many literary journals and anthologies and he has two books to his credit.
Alastair:
Ah, I fear I'm too late, but what a charming poem! Love Mary Oliver, she would be delighted. So full of life!
Posted 07/04/2021 01:38 PM
69Dorcas:
Your poem sounds like your occupation. Would that I could set my life to music. Thank you.
Posted 12/18/2011 05:10 PM
tannerlynne:
is it too late to add a comment? Richard you have caught Mary perfectly. I love this poem...
Posted 12/11/2011 08:14 PM
transitions:
sometimes it seem that the space between what we want to do and what we have to do is unchartable, yet as close as breath... Thank you for two wonderful poems. Judy
Posted 12/09/2011 05:20 PM
pwax:
Wonderful! A fitting response!
Posted 12/09/2011 01:38 PM
judithc:
nice tribute.
Posted 12/09/2011 10:40 AM
marenomitchell:
One type of delight following another. Thank you, Jayne!
Posted 12/09/2011 10:30 AM
Lakegal:
Have always loved your poems and have your books, so no surprise that I continue to be surprised by your humor and reality check. Thanks! Jackie J
Posted 12/09/2011 09:50 AM
Glen Sorestad:
What a very fine, indeed a masterful response, Richard, to Oliver's lovely poem with its memorable lines. Well done, Jayne.
Posted 12/09/2011 09:32 AM
Devon:
Nicely played, Ms. Jayne. And a beautiful response, sir.
Posted 12/09/2011 08:34 AM
Anjie:
You are a master, Richard. This is sharp, clever and moving. I LOVE it. ~Anjie www.promptsforwriters.blogspot.com
Posted 12/09/2011 08:19 AM
ed werstein:
As a potentially universal comment on all excellent poetry: Ain't that the truth?!
Posted 12/09/2011 08:13 AM
anndeupree:
There are no words to thank you for this poetry duo. I'm moved and even quivering in the reading. Thank you. Ann Deupree
Posted 12/09/2011 07:26 AM