Itís Christmas, the year before the accident, when the earth
still seemed fixed. My husband and children are hanging
lights on the big pine tree, the one that Becky
brought home as a seedling in first grade wrapped in a damp
paper towel. I am cooking dinner while they struggle
with the wires that somehow knot themselves up in the box.
Shadows gather behind the hills. The tree turns dark green,
then black. The tangled string unravels, and they pass it
around, loop over loop, while I watch from the steamy window:
husband, son, and daughter in a circle around the tree,
their arms full of stars.
From Radiance (Word Press, 2005).
Used here with the authorís permission.
†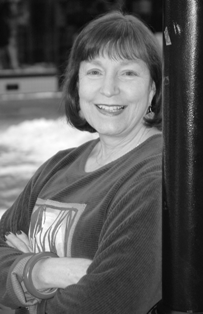 Barbara Crooker is the author of ten chapbooks, three full-length books, and more than 700 poems published in more than 2000 publications. She credits her achievements to perseverance as much as talent, and says, "Writing poetry is not putting down whatever comes into your head, and leaving it at that, never taking it any further. Poetry involves layers, and a lot of revision." Barbara lives in Fogelsville, Pennsylvania, where the tree referenced above fills the backyard sky, and is now far too tall to decorate. Read more about her at www.barbaracrooker.com.
†
wyant42:
What a precious poem! It seems prosaic until the last line when it suddenly becomes luminescent as poetry and not just the last line but the whole poem, much like what our speaker describes in the lighting of the tree.
Posted 12/11/2011 06:57 PM
Jo:
Beautiful poem Barbara. Thank you for sending out that light among all of us.
Posted 12/10/2011 09:04 AM
jeanie:
Carpe Diem ... life is a fragile thing. Eloquent, Barbara.
Posted 12/10/2011 08:43 AM
Marilyn L Taylor:
Barbara, what a lovely thing. Thanks for writing this.
Posted 12/10/2011 08:05 AM
Kay Sanders:
How the ordinary can be transformed by an armful of words! Thank you, Barbara
Posted 12/10/2011 06:00 AM