At the fold of day
a veil shrouds the hills
as rising fog drifts
over tapering fields.

Rain falls softly,
dimpling the river.
Its sombre waters swagger
beneath a narrow bridge.

Rambling oak trees line
steep grassy banks.
Ferns furl
their long slender fingers
into tight fists.
They recoil
into rooted mouldy stone.

Moss carpets the woodland,
the earthy air, damp
as dusk slinks in.

A murder of crows
sweep the sky
smothering the light.
Squabbling,
they swoop to roost
on tall tree tops.

Settling,
a rustling murmur
whispers softly, sweetly.
They sleep
under a saffron moon
stilled
by a blackening night.

© by Máire Morrissey-Cummins.
Used with the author's permission.
Purchase a framed print of this poem.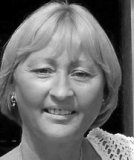 Máire (pronounced Moira) Morrissey-Cummins is a native of Ireland who lived in Holland and Germany for many years due to her husband's work. Recently retired from a financial career, she?s now back in County Wicklow, the "garden of Ireland," and has adopted writing, painting, and gardening as her new interests. Wicklow?s beautiful waterside setting is providing much inspiration ("I can see the sea from my bedroom window," says Máire) for this mother of two who has garnered numerous publication credits already, in both journals and anthologies.
Eiken:
Rob, Alli, Dotief, thank you, truly appreciate your kind comments. Maire
Posted 10/11/2011 03:34 PM
dotief@comcast.net:
Beautiful. I love the "murder of crows' that "Sweep the air/smothering the light./Squabbling..." Very nice!
Posted 10/11/2011 10:32 AM
Rob:
Thanks for building that beautiful image in my head. I'll glance at it throughout the day!
Posted 10/11/2011 09:56 AM
Alli Chase:
I love the way you use language. What a lovely poem!
Posted 10/11/2011 09:32 AM
Eiken:
Janet and Babystub, thank you for your kind words and taking the time to comment. Maire.
Posted 10/11/2011 08:26 AM
Janet Leahy:
lovely images at "the fold of the day"
Posted 10/11/2011 07:58 AM
Babystub:
What a beautifully worded creation of art! Love this poetess!!
Posted 10/11/2011 07:49 AM