Spring day butterflied with color
welcomes nascent leaves
melting into sky's skirts
as clouds swab promised rain.
 
Starling, thrush and towhee
have found their Oz.
Daffodils' hedge—citrine
and cinnabar—turns and trumpets
 
from emerald stems
when sun peeks a greeting.
Daisies' fireworks applaud
corps of carnelian tulips.
 
This moment, listed without price—
one of spring's wizardry of gems


© by Nancy Jentsch.
Used with the author's permission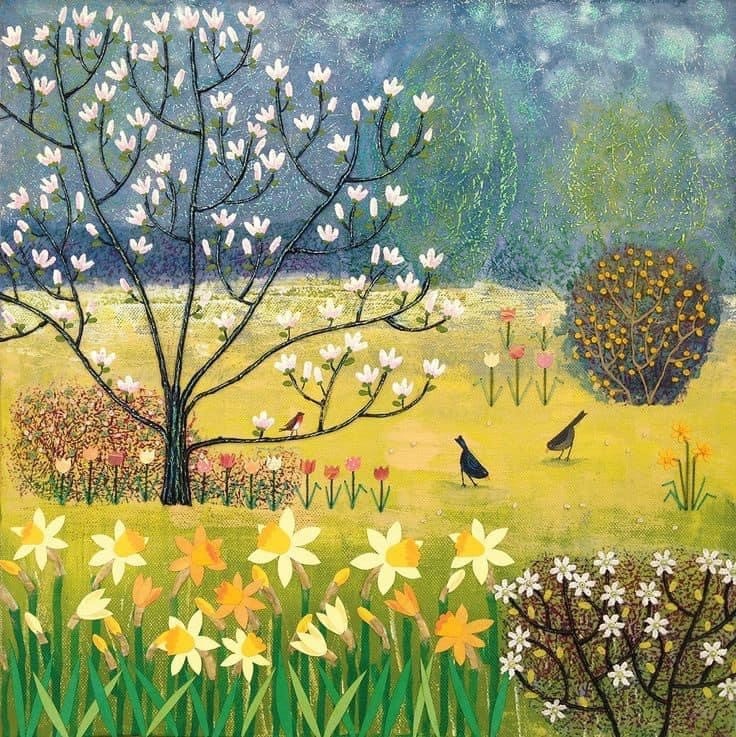 "Spring Garden," by Jo Grundy.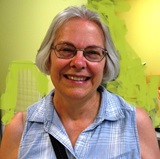 Nancy K. Jentsch calls herself "a second-career poet," having taught German and Spanish at Northern Kentucky University until 2020. She claims to now be "walking through life looking for just the right words, enjoying the thrill of the hunt and the mystery of the power of language." Nancy's poems have been published in various online and print journals and her first collection (Between the Rows, Shanti Arts) is scheduled for release in 2022. Nancy says one of the best compliments she ever received was a friend's comment about one of her poems: "I don't like poetry, but I like this." Learn more about Nancy, who lives in Camp Springs, Kentucky, at https://www.facebook.com/NancyJentschPoet.
Jo Grundy is a graphic artist-turned-painter whose work often reflects her love of nature and the four seasons. Her work is used in greeting cards, prints, and cross-stitch kits. Jo lives in England; learn more about her at https://www.jogrundyart.co.uk/.
Tracers645:
I love the pairing of the poem with the painting. It makes the experience of reading that much better. Very nice!
Posted 03/16/2022 05:45 PM
Lori Levy:
Beautiful, delicate poem and painting.
Posted 03/16/2022 02:59 PM
Wilda Morris:
Lovely! I especially like "butterflied with color."
Posted 03/16/2022 02:01 PM
CamilleBalla:
A very nice pairing of artistic talent and whimsy butterflied with color. Thank you!
Posted 03/16/2022 12:23 PM
Anastasia:
A perfect pairing of words and images!
Posted 03/16/2022 11:54 AM
Michael:
Thank you, Jayne!
Posted 03/16/2022 11:01 AM
Stephen Anderson:
Both the artwork and the words inspired by it are beautiful, and they sing a fine song together.
Posted 03/16/2022 10:39 AM
Michael:
Wonderful work by both painter and poet! Painting is poetry without words, poetry is painting with words, (da Vinci). Both efforts over-the-top here. Thank you.
Posted 03/16/2022 09:12 AM