He calls it Loverís Tulip,
a magnolia that lays down
a blanket of petals
cupped like palms
that cover the ground
half-turned upward
as if in adoration,
half-turned down
as if to shield the soil,
immodestly pink.

Hikers snap a thousand pics,
crane their necks, phones
and cameras to find
the right angle
for a digitized memory
of bloom and blue sky,
first under the tree
then out from under,
a zoom to a single blossom,
a panoramic to catch
the whole tree, but no angle
completes their wonder,
no distance shot
close enough
and no close up shot
with enough distance,
the way after their first kiss
a young couple shudders
trying to find the right length
at which to gaze
upon each otherís face.


© by Jeff Burt.
Used with the author's permission.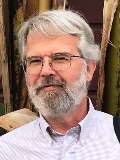 Jeff Burt lives on the Central Coast of California. He claims to have learned, in this last year, of never-ending energy from his grandchildren and perpetual motion opportunities from his Labrador; he is grateful for both. Learn more about Jeff at http://www.jeff-burt.com.
Janet Leahy:
I once lived in a house with a magnolia tree in the front yard, loved when the petals fell and the grass turned pink.
Posted 03/17/2022 12:19 PM
Lori Levy:
Beautiful portrayal of the magnolia petals and great ending.
Posted 03/17/2022 12:11 PM
CamilleBalla:
Beautiful, beautiful poem! I have this magnolia in front of my picture window and therefore I enjoy it more from inside, but passersby get to enjoy it, too. I just checked and it is budding in natures time. Thank you for this special poem!
Posted 03/17/2022 12:10 PM
jentsch:
The ending takes my breath away!
Posted 03/17/2022 11:45 AM
paradea:
Beautiful poem.
Posted 03/17/2022 10:55 AM
Sharon Waller Knutson:
I love this photographic poem with exquisite images and beautiful metaphors. I can see the magnolia petals, the hikers snapping photos, the lovers shuddering after the first kiss.
Posted 03/17/2022 10:23 AM
cork:
I am trying to remember that first kiss.
Posted 03/17/2022 09:27 AM
Michael:
Nicely done, Jeff. Original and subtly provocative.
Posted 03/17/2022 09:07 AM
tiddles:
Wow!
Posted 03/17/2022 08:36 AM
Larry Schug:
Perhaps a picture is not worth a thousand words. This poem, with 123 words, if my counting is accurate, conjures a thousand pictures in the imagination. "a blanket of petals cupped like palms" is a beautiful example.
Posted 03/17/2022 07:22 AM
paula:
Great!
Posted 03/17/2022 05:23 AM