The discussion arises from the discovery of grapes
misplaced in my chicken salad.
A query rises within me,
one of disbelief:
What heresy is this?  What sordid thing?  What mockery of food as it should be?

And so I ask,
"Wait, what are these?"  I have impaled the offending fruit upon my fork
for public display and perhaps humiliation.
Disdain fills my expression and seeps into my voice.
"Grapes," comes the arrogant reply, or so I judge it as arrogant.
"Yes, I see. They have been misplaced in my chicken salad."
"No, they belong in it."
"No, they belong in jellies and jams, and in the form of wine.
They have no place in chicken salad"
"They always belong in chicken salad. For this they were created.
It raises chicken salad to a higher level."
"I believe you have your raising and lowering confused. Fruit and chicken have
no place together and should be kept separate one from the other.
It is the proper way of things"
 
I consume the salad while the heretical grapes are consigned
to the outcast side of the plate,
relegated to their purgatory
 
There is a considered pause
 
"Orange chicken," comes the dry reply.
"Okay, some fruit and chicken belong together."
"Ha! Do you want to talk about raisins?"
"Not particularly, no."
And lunch continues


© by Timothy McQuade.
Used with the author's permission.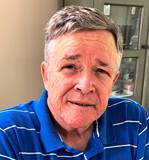 Timothy McQuade has occasionally written poems over the years, but finds he is now doing that on a more frequent basis. "Engaging in poetry encourages me to slow down and experience what could easily be missed in a rushed life," he says. When not writing poetry, Timothy works as an interim pastor, leading congregations through challenging transitions in pastoral leadership. He lives in Cincinnati, Ohio.
Lori Levy:
I also liked Larry's comment and liked the humor in this poem.
Posted 05/19/2022 08:00 PM
Anastasia:
As Larry notes, in addition to being entertained, we can learn from this poem!
Posted 05/19/2022 12:01 PM
Wilda Morris:
Ha ha! I appreciate Larry Schug's comment on the poem. It is so true.
Posted 05/19/2022 10:20 AM
paradea:
Funny!!
Posted 05/19/2022 09:51 AM
cork:
We had chicken salad for lunch yesterday without grapes. I'll know better next time.
Posted 05/19/2022 09:02 AM
Darrell Arnold:
This is hilarious. How fun! We each have our odd preferences. I like a touch of jelly on my cracker-salami-cheese hors d'oeuvres! Ben Franklin said, "Dress to please others. Eat to please yourself."
Posted 05/19/2022 08:36 AM
Michael:
I was up all night about this very question . . . so glad to have this resolved. Thank you Tim!
Posted 05/19/2022 08:28 AM
Larry Schug:
After reading this poem I am thinking how preconception leads to segregation, how society my be elevated by integration when the chicken gets to know the grape and they foster a common goal--flavor. I realize not everyone sees things this way, but why limit oneself to old habits and ideas? Obviously, Timothy, you have lead me to think in a little different way. Excellent! Thank you.
Posted 05/19/2022 07:35 AM