An effervescence of breeze
through tree leaves
lengthens my step.
Clouds crowd in.
 
Abrupt, a swath of white wings
lands in stride, folds
– impossible origami –
into an egret. Gusts uncoil to
 
serrate a pond's surface.
Along its edge: black stalk legs,
a slender step, the sharpened yellow
pencil of a beak, the raindrop eye.
A slow elegance with
a quick efficiency for frogs.


This poem first appeared in Canary (August 2019).
Used here with permission.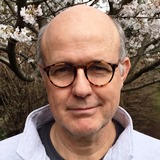 Eric Forsbergh retired from a career in dentistry in 2020, but then volunteered to be a Covid vaccinator for Loudoun County, Virginia. He has participated in dental mission trips to Guatemala and Appalachia and currently attends seminary with an emphasis on helping the poor. A Vietnam veteran, Eric is the author of one book, Imagine Morning, and has published more than fifty poems in various venues. When not writing or studying, he enjoys spending time with his two grandsons at his home in Virginia.
Wilda Morris:
I like this a lot, especially the "impossible origami."
Posted 07/23/2022 12:42 PM
cork:
I loved every word!
Posted 07/15/2022 09:37 AM
Larry Schug:
A fine, concise poem (or is it a short short movie?). Wonderful. Full of wonder.
Posted 07/15/2022 08:26 AM
Michael:
Nice going, Eric, with this visually rich poem.
Posted 07/15/2022 08:25 AM
Lori Levy:
Great portrayal of an egret.
Posted 07/15/2022 08:02 AM
paula:
Great language! I love "impossible origami"
Posted 07/15/2022 05:57 AM