A new friendship in old age,
a gift that comes without history
when history is filled to the brim
and catching up takes too much time.
It is friendship in the present
a Zen Buddhist relationship
awake to the wonderment
of blooming roses, golden daffodils,
the migration of monarch butterflies
while savoring colors unexpected.† †


© by Myrna Merron.
Used with the authorís permission.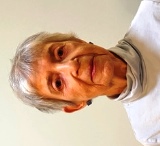 Myrna W. Merron lives in Pittsboro, North Carolina, having arrived there by way of the Bronx, Connecticut, Philadelphia, New Jersey, and Florida. Her love of writing was confined to reports during her career as a teacher, school psychologist, and professor of special education. Following retirement from paid employment, Myrna volunteered for several years as a guardian ad litem where she delivered more reports, but also found time to write articles for newspapers and journals. She ultimately turned to poetry, became absorbed with finding just the right words and phrases, and is now the author of two collections--My Walks and Prime.

KinVT:
I really enjoyed this poem - the sentiment, the structure, the images. The poem celebrates a truth not often acknowledged in old age & inspires me to pay more attention to the value of new friendships. Equating age with history filled to the brim made me smile.
Posted 07/30/2022 09:04 PM
CamilleBalla:
You put words to it, Myrna. A poem Ill remember. Yes, the wonderment of it all. Thanks!
Posted 07/30/2022 01:26 PM
Lori Levy:
Like the idea of a Zen Buddhist relationship.
Posted 07/30/2022 09:38 AM
KevinArnold:
So much work is accomplished with the first line. A craft lecture in itself. And the second line too. Together they jolt us into the poem.
Posted 07/30/2022 09:12 AM
bobbi43sml@aol.com:
So many gifts out there, waiting to be opened!! Thank you Myrna. You definitely found the "right words"
Posted 07/30/2022 08:16 AM
Larry Schug:
"A Gift" tells us to keep our hearts open to all life brings-"the wonderment". Thanks for the poetic reminder, Myrna.
Posted 07/30/2022 07:18 AM