Summer day.
And I run outside to play.
Mama says, "Shut that door. You're letting out my air."
Papa says, "It's hot out. You best beware."

Wide open yard.
I take off running.
Mama says, "Oh, don't kick up so much dirt."
Papa says, "Just be careful you don't get hurt."

Fat blackberries
grow by the fence.
Mama says, "Make sure you don't eat too much."
Papa says, "Watch out for snakes and such."

Swing hanging from limb.
I pump my legs to make it go.
Mama says, "Don't twist like that. Make it go right."
Papa says, "You better just hold on tight."

Big old tree
begging to be climbed.
Mama says, "Careful you don't fall to the ground."
Papa says, "Whatever you do, just don't look down."

Darkening path
heads into woods.
Mama says, "Don't you go too far."
Papa says, "Just make sure we know where you are."

Tired at last
I come inside.
Mama says, "Go scrub those hands real good."
Papa says, "Dirt's just part of childhood."


From Worlds Enough (Redhawk Publications, 2022).
Used here with permission.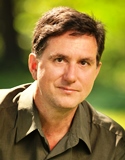 Scott Owens is the author of 17 collections of poetry and the recipient of numerous awards. Professor of Poetry at Lenoir Rhyne University and former editor of two poetry journals, he is the founder of Poetry Hickory, a monthly reading series. Scott's newest collection is Worlds Enough, a collection of poems for children. He lives in Hickory, North Carolina, where he owns and operates Taste Full Beans Coffeehouse and Gallery.Learn more about Scott here.

TheSilverOne:
Enjoyed this wonderful poem. I was given too much freedom, actually.
Posted 08/02/2022 01:18 PM
Jancan:
This excellent, appealing poem resonates deeply with me; it describes MY childhood!
Posted 08/01/2022 09:37 AM
Olivia:
Scott I love the Words of Warning poem. It does sound like your childhood. It sure made me smile !
Posted 07/31/2022 02:48 PM
KevinArnold:
My goodness a fine poem and he looks like a movie star. A young movie star!
Posted 07/31/2022 09:57 AM
paradea:
I know what a good dad you are, Scott!!! Love this poem!!
Posted 07/31/2022 09:47 AM
Lori Levy:
Captures the balancing act of letting kids be independent, but safe!
Posted 07/31/2022 09:42 AM
Joan Luther:
Ahhhhh, sweet memories of being parented. Great ending!
Posted 07/31/2022 09:23 AM
Larry Schug:
Ha Ha! "don't look down"--not loo!
Posted 07/31/2022 08:41 AM
Larry Schug:
It's nice to see your words, Scott. Good advice-"beware, don't get hurt, watch out, hold on, don't loo down, make sure". Good old Dad gets it. I dearly miss the Wild Goose Review.
Posted 07/31/2022 08:18 AM