Money tight, children fractious,
emotions threatening to explode,
we grab towels, pails, books,

escape to the banks of the Natchaug.
Children settle, reading, splashing,
searching for where the crayfish hide.

I wade downstream, the shallows split
by a cluster of boulders, some craggy,
others worn flat by the rise and fall,

the sheer persistence of water.
Slipping on stones below the surface,
clutching at those above, I clamber

to the top of a rock, little pools
in its crevices still warm from the sun.  
Stretched out on my back, I trail a hand

in cool water scissoring past,
problems of the day like a lump
in the stomach, rock-hard.

The sun slides below the treeline,
the only sounds now those of the river,
and the muskrat, slapping in and out

along the ledge.  The trees grow close
along the bank, their tops etch the path
of the winding water on an opaque sky.    

I relinquish conscious thought,
lie like an offering on a salver
while the river works its slow magic,

turning stone to sand.


This poem first appeared in the Fox Cry Review (2001).
Used here with permission.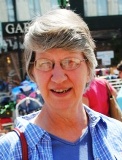 Kay N. Sanders, a native Southerner who now lives in Oshkosh, Wisconsin, has an 11-circuit labyrinth mowed into her backyard, which she shares with deer, rabbits, turkeys, squirrels, chipmunks, possums, birds, a garter snake or two, plus whatever else wanders through. Kay grew up hearing her mother and maternal aunts recite poetry, sing songs, argue, tell stories, quote scripture and even cuss, now and then; how could she not become a poet?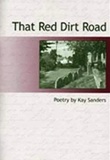 Wilda Morris:
"The sheer persistence of water" - yes! Another wonderful poem, Kay.
Posted 08/06/2022 08:58 AM
Maryann Hurtt:
Your poem, Kay, did for me, what the river did to you. Thank you.
Posted 08/01/2022 11:11 PM
pwax:
Great ending -- stones to sand --actual and metaphoric. Good one, Kay.
Posted 08/01/2022 05:52 PM
Anastasia:
This poem took me to that rock and that river. Thank you, Kay!
Posted 08/01/2022 01:55 PM
Lori Levy:
I can see/feel this clearly. Beautiful.
Posted 08/01/2022 12:37 PM
Michael:
Rivers are mysterious, ominous, delightful and powerful. A river can lift you and/or kill you. Like the beauty, the tranquility suggested in this poem and the way "the sun slides below the tree line." Nicely done, Kay.
Posted 08/01/2022 10:06 AM
NormaB:
Oh the magic of rivers! For me its the Delaware! Thank you!
Posted 08/01/2022 09:58 AM
Jancan:
Yes, nature has the power to calm us and give peace. This is a really lovely, appealing poem, with effective imagery.
Posted 08/01/2022 09:55 AM
tiddles:
"the sheer persistence of water...to work its slow magic" Wonderful poem, especially for what's going to be a hot day. Thanks, Kay! MZWindau
Posted 08/01/2022 09:54 AM
Angela:
Oh-The power of water to calm us. Love your imagery in this poem!
Posted 08/01/2022 08:01 AM
Larry Schug:
Took me right out of my chair and placed me on a slippery rock in a river I did not know, but now I do.
Posted 08/01/2022 06:54 AM
paula:
A lovely poem. "Scissoring past"--great!
Posted 08/01/2022 05:48 AM