If I could paint the world myself,
I'd take my favorites from the shelf
and make the sky a shiny green
with clouds bright orange and sparkly clean.

The leaves and grass I'd paint brave blue
and in the fall, a silver hue,
and for a river, lake, or sea,
a royal purple grape suits me.

Banana yellow for the night
with crimson stars which would delight
and complement a coffee moon
that waxed and waned and turned maroon.

And when I tired of this array,
I'd choose my paints another way.


© by C.F. Kelly.
Used with the author's permission.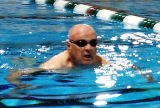 Cornelius Farrell Kelly lives in Pinedale, Wyoming, with his wife of 60+ years, in a house they built with the help of their ten children at an altitude of 7300 feet above sea level. The author of eight chapbooks and two published books, he writes a rhyming couplet every morning and posts it on his Facebook page. Cork is a competitive senior swimmer (he says he frequently gets ideas for a poem while swimming) and last October, he participated in the Huntsman World Senior Games.
CamilleBalla:
Its wonderful how people like Cork can be so imaginativea gift indeed. Another reminder to free that part of myself in even a small way, but after so many years?
Posted 08/22/2022 10:40 AM
Lori Levy:
Beautiful. Id like to live in a world that looked like this!
Posted 08/22/2022 10:29 AM
KevinArnold:
Ah, rhyming couplets. Fun.
Posted 08/22/2022 09:54 AM
Sharon Waller Knutson:
I love this delightful musical picturesque poem about painting the outer world in contrasting colors. My favorite unique images were in this stanza: Banana yellow for the night with crimson stars which would delight and complement a coffee moon that waxed and waned and turned maroon.
Posted 08/22/2022 09:42 AM
Wilda Morris:
A fun poem. I could picture this painted world! And think about what it might look like another day.
Posted 08/22/2022 08:51 AM
Michael:
I know an artist who might put a brush to this imaginative poem!! Well-done, Cork.
Posted 08/22/2022 08:49 AM
Darrell Arnold:
I love the rhymes, Cork. I'm too much of an inside-the-lines kind of a guy to ever think this way, but it's Seussianly imaginative, and I'm happy you are there to do what I cannot.
Posted 08/22/2022 08:40 AM
Care:
A delightful image...a lovely way to start my day!
Posted 08/22/2022 08:03 AM
Larry Schug:
Imagination-a gift and a tool for making a better world. It's where everything begins.
Posted 08/22/2022 07:50 AM