I think there is something to be said about the monotony.
The routine people.
The six-day-a-week alarm clock people.
Sometimes seven.
The five-day vacation people who are itching to head back after three
because there are cows and corn to check.
The self-proclaimed optimists, because the adversity in this industry
could eat you alive.
The pure bliss of raising generation after generation of quality cattle,
whether it be for type, production, or both.
The simple serenity from the sight of an old, weathered barn
standing silently year after year.
The comfort in the idea that there is always a cow to milk,
a field to plow, a load of TMR to mix,
and a piece of machinery that needs fixing.
Racing to the relief of the final planting pass
just to chase that same relief during harvest in the fall.
Periodically gracing the local Stewartís shop with your presenceó
sporting messy hair and farm fresh aroma.
The sound of your childís laughter in the calf barn and wondering
if they, too, will fall in love with the monotonyó
as it certainly isnít for everyone and thatís okay.
But if you find that it is, hereís to getting it all done today,
just to go out and do it again tomorrow.


© by Jennifer Meiller.
Used with the authorís permission.
†
†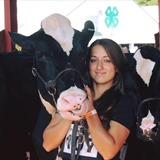 Jessica Meiller is a 29 -year-old dairy farmer from New York. Her writing is mostly a portrait of passion in which she illustrates her family's livelihood: agriculture. Jessica enjoys highlighting the loyalty and devotion farmers have for their livestock, land, and purpose.
Wilda Morris:
Wonderful poem. I spent some happy hours on my uncle's goat farm.
Posted 09/06/2022 01:17 PM
Janet Leahy:
I love the old weathered barn standing silently year after year. My cousins lived on farms and named the cows one by one. Great poem.
Posted 09/05/2022 08:27 PM
Lori Levy:
Love how you portray the farming life.
Posted 09/05/2022 05:28 PM
Anastasia:
Thank you, Jessica! It's interesting to hear about your work, and your love for your work and your cows.
Posted 09/05/2022 05:13 PM
DavidTookey:
Perfect poem for a summer morning!
Posted 09/05/2022 01:47 PM
KevinArnold:
An exciting reminder that poetry is inherently, remarkably, inclusive.
Posted 09/05/2022 12:57 PM
joecot:
More please. More Jessica. So nice to hear pride in farming.
Posted 09/05/2022 11:32 AM
forrsher2:
Wonderful. Thank you, Jessica.
Posted 09/05/2022 09:21 AM
paradea:
Very hard work, described so poetically!! Good on you, Jessica. I love this poem!!
Posted 09/05/2022 08:55 AM
Michael:
I know something of the life having lived and worked on farms in my youth. Biology is powerful, unrelenting joyful in exactly the way Jessica has portrayed it. Quite nicely done.
Posted 09/05/2022 08:27 AM
Larry Schug:
I'm not sure I would call it monotony, Perhaps living a blessed life and appreciating it. Everyone should be so fortunate. I don't say this wearing rose colored glasses. The key to being blessed is doing the work, as so well stated in this poem.
Posted 09/05/2022 08:18 AM
Darrell Arnold:
I love this poem. My people are the alarm-clock people, the agricultural people, the people who love the land, love the livestock, love life in a rural setting. I was a 4-H-er (their symbol in the photograph), a group of mostly agricultural young people learning the business of their lives. Jessica nailed it.
Posted 09/05/2022 08:13 AM
mail@schoolbusmart.com:
Love it! God bless you, your writing and what you do. Randy Mazie
Posted 09/05/2022 07:13 AM