You may take your winters southward,
You may have your golden Junes,
You may have your summer mountains
Or your eastern fog-swept dunes;
But Iíll take the first red ember,
Where the Painter works his will,
When itís morning in September,
Or itís noon-day in September,
Or itís twilight in September,
And the flame is on the hill.
There is orange down the valley,
There is crimson out the lane;
Thereís a fleck of purple tinting
Where the maples meet the rain.
For the glow that I remember,
With an everlasting thrill,
Is a morning in September,
Or a noon-time in September,
Or a twilight in September,
When the flame is on the hill.

This poem is in the public domain.
†
†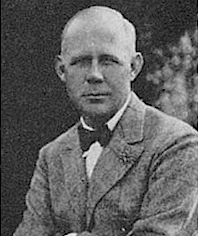 Henry Grantland "Granny" Rice (1880 –1954) was a gifted athlete who played football, baseball, and golf. He graduated from Vanderbilt University with a degree in classics, then embarked on a 50-year career as a sportswriter. In that role, Grant worked for a number of major newspapers, was the first play-by-play announcer carried live on radio and, ultimately, became a syndicated columnist whose work appeared in nearly a hundred papers. Nicknamed the "Dean of American Sports Writers," he wrote poetry as well as sports news, and often included classic literary references in his columns and articles. The familiar quote, "It's not whether you win or lose, it's how you play the game," originated in his poem, "Alumnus Football."
paradea:
I love this poem!!!
Posted 09/07/2022 12:06 AM
Anastasia:
A lovely poem for a lovely season! Thank you for introducing this new-to-me poet, Jayne!
Posted 09/06/2022 04:01 PM
Jancan:
Now, this is MY kind of poetry. I LOVE it, and I love fall. Great choice for today.
Posted 09/06/2022 02:00 PM
Wilda Morris:
Autumn is my favorite season. This poem explains part of the reason, and does it well! The goldenrod is finally turning gold. I'm not a football fan, but I am fond of "football weather."
Posted 09/06/2022 01:14 PM
Michael:
Poetry and sports have rhythm in common. So true. When Javier Baez tags out a would be base stealer . . . can't think of anything more poetic than that!! Excellent post.
Posted 09/06/2022 09:17 AM
Darrell Arnold:
In my native Colorado mountains, September is THE month I love the most. We don't have the colors of the hardwoods, but we have reds in the oak brush and the "flame" of the golden aspens. The elk are bugling, the air is cool, and a nap in an open meadow, on a mountain hillside, while ostensibly hunting for a big bull, is one of the purest pleasures a man can enjoy. I have copied Grandland's poem. I will look for more.
Posted 09/06/2022 08:54 AM
Larry Schug:
I was just this morning thinking this morning that it is time to visit one of the local prairie preserves and view "the flame", the purple tinting" the crimson and orange and "the glow". "Where the maples meet the rain" is wonderful writing.
Posted 09/06/2022 08:35 AM
pwax:
A treasure, Jayne. By the way, I watched your interview. It was wonderful to see (and hear) you "in the flesh."
Posted 09/06/2022 08:30 AM
mail@schoolbusmart.com:
It is the rhythm you create and the smoothing of the line, that will make the poem sing and outward travel notes Divine./// Enjoyed this one. Randy Mazie
Posted 09/06/2022 07:08 AM