Thunderheads, towering anvils,
building in the west.
The air is still and heavy,
signaling it will be a humdinger.

My little dog and I
check doors and windows,
preparing for the onslaught
as the storm unleashes its fury.

Lightning rents the clouds
and thunder shakes the sky.
Wind rages overhead and
rain pounds down on the roof.

Then, slowly, the rumbling
lumbers off to the east,
rain lets up, calm returns,
and we venture out

into the freshly washed evening
as the sun breaks out
beneath the fleeing clouds
in a lovely, late summer sunset.


© by Bob Kimberly.
Used here with the author's permission.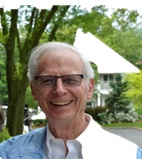 Bob Kimberly lives in Bellevue, Washington where, earlier, he worked for several businesses and ran a horse farm with his wife. Bob loved poetry growing up and in school, but didn't really do any writing until after he retired and joined a creative writing class.Now, although he writes mainly for himself, he has self-published four collections of poems and numerous chapbooks used as Christmas presents for family and friends. His poems have also been published in a variety of journals.
Bluezinnia:
One small thing: Unless the lightning is paying every month for the privilege, the verb would be "rends", not "rents". :)
Posted 10/01/2022 07:09 PM
Bluezinnia:
One small thing: Unless the lightning is paying every month for the privilege, the verb would be "rends", not "rents". :)
Posted 10/01/2022 07:08 PM
DavidTookey:
I can feel the movement of the storm as it passes! Great poem.
Posted 09/08/2022 10:15 AM
Lori Levy:
Great depiction of a storm and the calm afterwards.
Posted 09/07/2022 06:06 PM
Anastasia:
I can smell the post-storm fresh air! Wonderful poems, Bob!
Posted 09/07/2022 03:57 PM
Adriana:
"freshly washed evening" - nice!
Posted 09/07/2022 10:46 AM
Joan Luther:
Feeling the roller coaster of life as I follow the storm here.
Posted 09/07/2022 09:12 AM
Larry Schug:
I most like the third stanza. Plain words and simple description create a place for imagination to run wild.
Posted 09/07/2022 08:04 AM