The doctor wants to check
my resting heart rate,
the tip of the sine wave
of blood's pressure,
how often I gasp in sleep
thinking it's a gap
between parasympathetic
and sympathetic recognition,

but I tell him it's because
I have dreams of wonder,
am struck by awe.
He should try it,
he could have his breath
sucked out of him.
It might make him ask
different questions.


© by Jeff Burt.
Used with the author's permission.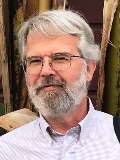 Jeff Burt lives on the Central Coast of California. He claims to have learned, in this last year, of never-ending energy from his grandchildren and perpetual motion opportunities from his Labrador; he is grateful for both. Learn more about Jeff at http://www.jeff-burt.com.
Wilda Morris:
Wonder-ful! Strong ending.
Posted 09/09/2022 09:18 AM
RonPoems:
Clever play on Talk to your physician about it.
Posted 09/08/2022 01:54 PM
Lori Levy:
Love the idea of gasping in wonder and awe. Congratulations, Jayne, on your book tour!
Posted 09/08/2022 12:48 PM
Joan Luther:
This sends my heart a-fluttering, just thinking about the awe in nature. Lovely poem!
Posted 09/08/2022 11:15 AM
peninsulapoet:
Love this.
Posted 09/08/2022 10:59 AM
joecot:
The heartbeat of this living poem makes me gasp, too.
Posted 09/08/2022 10:31 AM
paradea:
Good luck on the book tour, Jayne. Just sorry I'm not going to be in Fla.
Posted 09/08/2022 09:52 AM
paradea:
I love this poem!!!
Posted 09/08/2022 09:51 AM
cork:
Gasp is a curious word.
Posted 09/08/2022 09:32 AM
Angela:
to have such awe-such a reminder on how to best live life!
Posted 09/08/2022 08:27 AM
Larry Schug:
A short poem that says much about life and how to live it.
Posted 09/08/2022 08:19 AM