Night envelopes in silence
After the sun gives day its farewell.
Darkness blankets
With a star-covered, velvet quilt.
†
Then slowly, slowly, a glowing white orb
Emerges above the tree line.
It presses against the dark comforter,
Seeks to win the galactic competition.
†
It calls to Venus, to Neptune, to Mars,
To me, a daughter of the Earth.
It finds an open sliver of window shade,
Beams me awake.
Oh, moon! You rise to beckon me from slumber.
You are the dream this night.


© by Marilyn Zelke Windau.
Used with the authorís permission.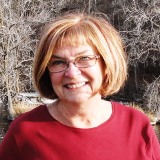 Marilyn Zelke Windau, of Sheboygan Falls, Wisconsin, started writing poems at age thirteen. A former art teacher, she has published four books and her award-winning work can be found in many journals and anthologies. Marilyn includes her maiden name to honor her father, who was also a writer. When she's not writing, Marilyn works at restoring her 1891 house, creates mosaics, paintings, and books made with tea papers. A Master Gardener volunteer and an art center docent, she is married to a retired environmental engineer, has three daughters, and three grandchildren.
ghctenmile@earthlink.net:
Thanks for this really nice poem about the moon--it's so hard to find something 'new' to say about the moon. I like what you say here of it, as you say, seeking to win the galactic competition.
Posted 09/09/2022 06:48 PM
Lori Levy:
Especially like the lines, It finds an open sliver of window shade/Beams me awake.
Posted 09/09/2022 05:02 PM
TheSilverOne:
Beautiful Poem, Marilyn. I will think of this, as I watch the moon tonight. ~~Doris Bezio
Posted 09/09/2022 05:01 PM
jennath:
Really slowed down my thoughts, such beautiful imagery
Posted 09/09/2022 11:47 AM
Wilda Morris:
Yes, that orb calls to me, another daughter of the Earth, too!
Posted 09/09/2022 09:17 AM
mail@schoolbusmart.com:
Enjoyed this classical styled moon dreamy poem. Randy
Posted 09/09/2022 07:02 AM
paula:
I am watching the moon as I write. SO good to hear your voice.
Posted 09/09/2022 05:13 AM