I call it My Lake, and why is it not?
Didnít God put it there to be forgot
Till some young wanderer should come and find
Near itópeace for his tired mind?

I in my turn, came upon it today,
And now itís my turn to rest and grow grey
Besides its quiet and languorous shore,
And never be vexed with cares any more.

Some think itís all wrong; some think Iím a fool;
They are but a part of that old Sophist school;
Because in the end, donít they all try to make
Something that somehow resembles My Lake?


This poem is believed to be in the public domain.
Originally published in Gunsmoke: A Complete History and Analysis of the Legendary Broadcast Series
with a Comprehensive Episode-by-Episode Guide to Both the Radio and Television Programs (McFarland, 1990).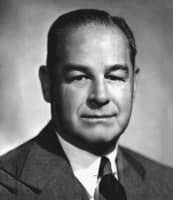 John Meston (1914 Ė 1979) was an American scriptwriter best known for creating, with producer/director Norman Macdonnell, the hugely successful radio and TV series, Gunsmoke.† In all, Meston wrote 183 episodes of Gunsmokeís radio broadcasts and 196 episodes of the TV show.† He wrote another 200+ television scripts during the course of his career, for such shows as Leave It to Beaver, Father Knows Best, and Little House on the Prairie.† Born and raised in Colorado, Meston bonded with horses early on and occasionally entered bronc riding competitions in area rodeos. Educated at Exeter, Dartmouth, Harvard, and the Sorbonne, he was an expert on the work of James Joyce and a close friend of poet Robert Penn Warren. Before becoming a scriptwriter, he served in the Army and worked as a CBS censor and as a network editor for CBS Radio.
jamvan:
so charming and simple :)
Posted 09/11/2022 04:41 AM
CamilleBalla:
Amazing thoughts and words from a ten-year-old, especially the last stanza. And so well written!
Posted 09/10/2022 11:59 AM
Lori Levy:
Very wise ten-year-old!
Posted 09/10/2022 11:44 AM
joecot:
As it happens, I visited a classroom yesterday where the ten-year-olds had written some astonishingly fresh poetry.
Posted 09/10/2022 11:20 AM
KevinArnold:
A bronc rider, too.
Posted 09/10/2022 10:52 AM
paradea:
Love it!!!
Posted 09/10/2022 10:49 AM
cork:
Check out Fremont Lake in Wyoming.
Posted 09/10/2022 09:51 AM
Wilda Morris:
I feel that way about lakes, too!
Posted 09/10/2022 08:44 AM
Darrell Arnold:
"My lake" is a cabin in the Colorado Mountains, a cabin away from all other cabins by miles, and accessible only by 4x4 vehicles. Elk, deer, bear, and grouse abound, skies are clear and blue, and nights are filled with stars. I was an "old soul," too, Joan. I feel a strong kinship to Mr. Meston, though I never heard of him until this morning.
Posted 09/10/2022 08:41 AM
Larry Schug:
Who knows what goes on in the mind of a bronc rider! I agree with Joan. Your research is impressive, Jayne.
Posted 09/10/2022 08:31 AM
Joan Luther:
Impressive words for a 10 year old.maybe an old soul. Thank you for the pleasant discovery, Jayne!
Posted 09/10/2022 08:05 AM