It was among a tangle of baubles
and fabric patches in a bottom drawer,
nestled in a forgotten enameled bowl,
its elegant narrow band, its gold
facets still gleaming.

From the 1930s or 40s, the jeweler told me
as she wound it, gently, a slow upward
circling motion that made it work again,
that made me feel I might keep
my grandmotherís time, her wrist
becoming my wrist as I would stop

to gaze at it through each dayís
long hours, its quiet beauty
like an heirloom of time
from she who is beyond time,
here, with me right now. †


© by Andrea Potos.
Used with the author's permission.
†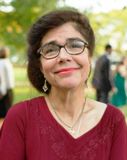 Andrea Potos, who writes in longhand, is a longtime independent bookseller and the author of numerous books; her latest, Her Joy Becomes, is forthcoming from Fernwood Press in November. Andrea loves reading, travel, cafes, and walking beside lakes and on green trails—"of which there are many," she says, in Madison, Wisconsin, where she lives. Andrea's Greek grandparents and their spirit have been an abiding presence and inspiration throughout her life and poetry.
v
Wilda Morris:
"from she who is beyond time, here, with me right now." This is how I feel when I wear my mother's sweatshirt. A wonderfully worded poem!
Posted 09/12/2022 08:33 AM
Jancan:
Such a lovely descriptive of a precious find
Posted 09/12/2022 12:02 AM
Jo:
such resonance.
Posted 09/11/2022 11:42 PM
paradea:
Lovely!!
Posted 09/11/2022 10:19 PM
Lori Levy:
Beautiful.
Posted 09/11/2022 12:09 PM
Sharon Waller Knutson:
I love this charming descriptive poem because it shows that the speaker sees the watch as a connection to her grandmother and not just jewelry to pawn for money. My favorite lines are the last in each stanza: its gold facets still gleaming, I might keep my grandmothers time, she who is beyond time, here, with me right now. .
Posted 09/11/2022 12:01 PM
cork:
We each have a grandparent relic that continues the connections. Thanks for the reminder.
Posted 09/11/2022 10:54 AM
Larry Schug:
Well said. I have a similar experience with my grandfather's pocket watch. These words literally touch the past.
Posted 09/11/2022 09:24 AM
Angela:
Such a beautiful poem. Her wrist becoming my wrist.
Posted 09/11/2022 08:30 AM