I've lost time.
Lost track of where I left it,
(on a table at home, in a desk at work):
I placed it somewhere for safekeeping,
thinking, That five minutes will come in handy
later today or early tomorrow—
Just give me a minute, maybe two,
I'll get back to you in a second...

First I have to find the time,
but with every turn I take
I keep myself from really keeping
the empty promises I keep making
to waste not/want not what little time I have...

I am the prodigal son who tasted
the time of his life and wasted his time
thinking, he had all the time
in the world to spend, not
knowing he was broke
to begin with in the end.


© by Mike Orlock.
Used with the author's permission.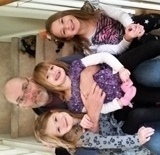 Mike Orlock is a retired high school English and American History teacher who divides his time between the Chicago suburbs and a vacation home in Sturgeon Bay, Wisconsin. He has been married for 46 years to his high school sweetheart and inspiration, Liz, and greatly enjoys being grandfather to five beautiful granddaughters who keep him, he says, "jumping like a frog on a hot skillet." Mike's short stories, poems, and reviews have appeared in a variety of publications and he is currently serving as Poet Laureate of Door County, Wisconsin, a position he will hold for the next two years. Mike's latest book is Toes, Toads, tulips & Turtles, released last fall.
Wilda Morris:
Too true!
Posted 11/07/2022 11:48 AM
Adriana:
Talking about punctuatiion, and forgot the period after Quartets !
Posted 11/05/2022 03:47 PM
Adriana:
I love the last beautiful and tantalizing verse. Am puzzling with pleasure over its meaning. Reminds me of T.S. Eliot's "In my beginning is my end" from Four Quartets I believe there should not be a comma after "thinking", or if a stop is intended, I believe a semicolon would be preferable...
Posted 11/05/2022 03:44 PM
TheSilverOne:
Another good one!
Posted 11/05/2022 01:45 PM
Sharon Waller Knutson:
Perfect poem for the end of Daylight Savings Time. My favorite stanza is: First I have to find the time, but with every turn I take I keep myself from really keeping the empty promises I keep making to waste not/want not what little time I have...
Posted 11/05/2022 01:42 PM
paradea:
Great!!
Posted 11/05/2022 12:32 PM
cork:
When considering time, I frequently wonder how much I have left.
Posted 11/05/2022 11:56 AM
Lori Levy:
Like the way this poem plays with time.
Posted 11/05/2022 11:20 AM
RonPoems:
Great shoulda, coulda, wooda poem.
Posted 11/05/2022 10:01 AM
Michael:
It's about time a poem hit me where I live, Mike. A timely twist which will stand the test of time.
Posted 11/05/2022 09:08 AM
Gilbert Allen:
A timely poem indeed!
Posted 11/05/2022 08:59 AM
Angela Hoffman:
Mike, thank you for this quiet reminder of the gift of time.
Posted 11/05/2022 07:40 AM