So late
It may count as early —
You dance over clouds
Left from yesterday's storm,
Toe-touching each,
Leaving them luminous.
Laughing silently,
Like a mischievous girl,
You've stolen dawn's silver
And now flaunt it
Across night's
Measureless breast,
Teasing the sun
Yet hours away.


© by Robert Walton.
Used here with the author's permission.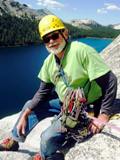 Robert Walton is a retired middle school teacher and a lifelong rock climber with many ascents in the Sierras and Pinnacles National Park. His publishing credits include works of science fiction, fantasy, and poetry. Robert's historical novel, Dawn Drums, won the Tony Hillerman Prize for best fiction in the 2014 New Mexico Book Awards. Most recently, his book, Joaquin's Gold, was published as a paperback and a Kindle eBook. It offers fictional adventures about the famous California bandit, Joaquin Murrieta. Learn more about Robert at http://chaosgatebook.wordpress.com/.
jentsch:
"You've stolen dawn's silver" - wow!!
Posted 12/17/2022 07:22 PM
Wilda Morris:
Lovely!
Posted 12/17/2022 09:08 AM
Jancan:
Very creative and expressive
Posted 12/16/2022 07:15 PM
Lori Levy:
Beautiful image of the moon.
Posted 12/16/2022 01:46 PM
JudithViirgina:
WOW!!! Judith
Posted 12/16/2022 10:17 AM
RonPoems:
Its hard to write about the moon. The muse is so common, but you dud it well.
Posted 12/16/2022 10:00 AM
Michael:
Exquisite, Robert! Thank you.
Posted 12/16/2022 09:44 AM
KevinArnold:
Precision language. Fun.
Posted 12/16/2022 09:32 AM