Once I dipt into the future far as human eye could see,
And I saw the Chief Forecaster, dead as any one can be.
Dead and damned and shut in Hades as a liar from his birth,
With a record of unreason seldom paralleled on earth.
While I looked, he reared him solemnly, that incandescent youth,
From the coals that he'd preferred to the advantages of truth.
He cast his eyes about him and above him; then he wrote
On a slab of thin asbestos what I venture here to quote,
For I read it in the rose-light of the everlasting glow:
"Cloudy; variable winds, with local showers; cooler; snow."


This poem is in the public domain.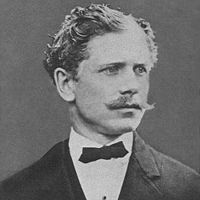 Ambrose Bierce (1842 - 1914, presumed) was born in Ohio, then raised on a farm in Indiana in a very large family with little money, but lots of books. He embarked on a newspaper career at the age of fifteen but, four years later, enlisted in the Union army and gave distinctive service there for many years before resuming his journalism career. Intelligent and ascerbic, Ambrose enjoyed writing satire and social criticism, and was lauded for a distinctive style which he displayed in multiple genres; in particularly, he is considered a master of the American short story.
In a bizarre, late-life adventure, Ambrose traveled to Mexico and began traveling as an "observer" with Pancho Villa's army. He was last seen in Chihuahua and last heard from on the day after Christmas in 1913; no one knows what became of him, though there have been several movies and books speculating on his demise and final days.
Jancan:
I like the wicked humor in this skillfully written poem! Good choice!
Posted 12/19/2022 08:35 AM
Darrell Arnold:
When I went into the military, I requested being a weatherman. They made an X-ray Technician out of me. I wasn't happy about it at the time, but maybe they did me a favor. I much prefer being appreciated to being reviled.
Posted 12/17/2022 04:16 PM
paradea:
Love this!! Never knew anything about Ambrose Bierce's life! Thanks, Jayne!
Posted 12/17/2022 11:54 AM
JudithViirgina:
Is this a weatherman he describes?? I think not! It just might be what he thinks of the everlasting place of rest!! Whatever it be! I liked his description of there will always be a change in the commonality of the weather as well as life!!
Posted 12/17/2022 11:53 AM
cork:
poetry, n. A form of expression peculiar to the Land beyond the Magazines. The Devil's Dictionary
Posted 12/17/2022 10:04 AM
pwax:
What a great find, Jayne! I love it.
Posted 12/17/2022 09:20 AM
Michael:
We don't see many poems that feature 15-syllable lines. Like his cadences and especially his "touch" of irony. His short stories, especially those set in the Civil War, are nothing short of masterpieces.
Posted 12/17/2022 09:06 AM
Wilda Morris:
LOL!
Posted 12/17/2022 09:06 AM
Larry Schug:
Great poem. It must be hard to be a weather caster. Best ending of a poem that I've read in a while.
Posted 12/17/2022 07:32 AM