Anticipation glistens from her lovely brown eyes
as I open the bow on my Christmas surprise.
All wrapped with her wrapping I slowly unwrap,
exposing an envelope, unsealing the flap.
A certificate for two at "Old Country Buffet,"
the best gift I've gotten on this special day.

There's nothing, my darling, that I'd rather do
than dine at the diner, a dinner for two.
Our meal will be lovely and worth every dime,
but what I value most is this precious time.
This time in my life, the best in the world,
for a Papa to spend with his favorite grand-girl.


© by Carl Palmer.
Used here with the author's permission.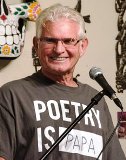 Carl "Papa" Palmer lives in University Place, Washington now, but grew up on Old Mill Road (the name of his latest book) in Ridgeway, Virginia. Retired from the military and the Federal Aviation Administration (FAA), he enjoys being a Franciscan Hospice volunteer and being "Papa" to his grand descendants. Carl is the author of nine chapbooks and his work has been published in more than 200 journals around the world. His motto is "Long Weekends Forever!"
Anastasia:
Dinner with a grandparent, just the two of you, is always a special time!
Posted 12/26/2022 01:25 PM
Wilda Morris:
Lovely!
Posted 12/24/2022 09:07 AM
Lori Levy:
Very touching.
Posted 12/23/2022 05:02 PM
Sharon Waller Knutson:
Love this musical cheerful poem with a hint of a mystery. My favorite lines are: A certificate for two at Old Country Buffet, the best gift Ive gotten on this special day. Theres nothing, my darling, that Id rather do than dine at the diner, a dinner for two." I especially enjoyed the surprise at the ending that the darling is grandpa's granddaughter.
Posted 12/23/2022 11:32 AM
Michael:
Great work, Carl! Love this bouncy and happy poem with "easy" rhyming.
Posted 12/23/2022 09:22 AM
KevinArnold:
I'm with my granddaughters for first time this year. Fine poem.
Posted 12/23/2022 09:19 AM
cork:
My thoughts turn to grandchildren.
Posted 12/23/2022 09:11 AM
Darrell Arnold:
Excellent poem. God Bless Papa and his "grands."
Posted 12/23/2022 08:43 AM
bobbi43sml@aol.com:
This truly touches my heart, "Papa" Palmer. This "Nannie " writes rhymes for each grandchild for every birthday 'til 18th - then I put together a picture book with a rhyme on each page - So far I have finished three out of five. Hoping my muse stays with me until 2025 when the last two turn 18.
Posted 12/23/2022 07:01 AM
Lucy:
Sweet!
Posted 12/23/2022 05:11 AM