'T'would seem quite true I never was
the captain of this ship,
though in my youth I did believe
in charting my own trip.

But Master Time has made it clear
how lowly is my rank.
I've silver locks and aching limbs
and soon I'll walk the plank.

One thing I've learned as days go by
a'sailin' life's rough seas:
It doesn't work to push against
what comes upon the breeze.

For when I tried to turn the tide,
instead the tide turned me;
the Sea of Life dictates for us
in ways we can't foresee.

'T'is true that we are powerless
to stop waves high and low,
but we can choose to welcome both
the pleasure and the woe.

And so this ship does carry me
through seas both sweet and tart.
When I embrace my life, I live
with full, contented heart.


© by Cynthia Bernard.
Used here with the author's permission.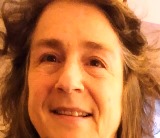 Cynthia Bernard is a woman in her late 60s who is finding her voice as a poet after many decades of silence. A long-time classroom teacher and a spiritual mentor, she lives and writes on a hill overlooking the ocean, about 20 miles south of San Francisco.
Wilda Morris:
A good way to look at life! Thank you, Cynthia.
Posted 01/03/2023 06:31 PM
CynthiaB:
Thank you, everyone who commented. I appreciate your feedback and encouragement. I'm honored to have my poem included here; many thanks, Jayne!
Posted 12/30/2022 10:26 PM
peggy.turnbull:
I love the image I was given here of Cynthia writing this poem in her home while looking out at the ocean. Thank you for crafting your wisdom so beautifully, Cynthia!
Posted 12/30/2022 01:52 PM
Stephen Anderson:
Its always comforting to hear wisdom dispensed so well in a rhymed poem, and your use of Nature is well done. Nothing trite here!
Posted 12/30/2022 01:01 PM
CamilleBalla:
A-sailin is the lesson it takes a lifetime to learn, or at least be reminded. Larry says it well as does everyone who commented. Enjoying your poetic voice, Cynthia. Nice moments aboard on this busy morning. Thank you.
Posted 12/30/2022 12:50 PM
Lori Levy:
Very wise.
Posted 12/30/2022 12:48 PM
RonPoems:
Love walk the plank.
Posted 12/30/2022 10:13 AM
cork:
Nice~!
Posted 12/30/2022 09:38 AM
Michael:
Cynthia's cadence places me on the ship's forecastle. Pleasurable read.
Posted 12/30/2022 09:13 AM
Angela Hoffman:
Why does it take us so long to learn this lesson. A beautiful poem Cynthia!!!
Posted 12/30/2022 08:54 AM
Larry Schug:
A nice, poetic lesson on how to approach life as well as how to accept life"s approach.
Posted 12/30/2022 08:48 AM
Darrell Arnold:
This is brilliant work, Cynthia. Your rhyming and metering are top shelf. Your imagery and comparison of living our lives as sailing rough seas is spot on. There is wisdom and humor here, as well as clever wordsmithing. I immediately thought of the old English poet, Thomas Hood. Impressive, indeed. We are all blessed that you are finding your poetic voice. I'll eager watch and listen for more.
Posted 12/30/2022 06:32 AM