On year's second day
sun uncorks bubbly, splashes
 
frost-weary grass with angled
rays. Ice crystals shatter light
 
to prisms, cheer lawn
with blue   gold   white
 
chatter that promises ever more
seconds of light—antidote doses
 
for winter's ash-sick sky.


© by Nancy Jentsch.
Used with the author's permission.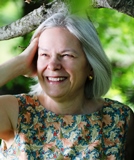 Nancy K. Jentsch calls herself "a second-career poet," having taught German and Spanish at Northern Kentucky University until 2020. She claims to now be "walking through life looking for just the right words, enjoying the thrill of the hunt and the mystery of the power of language." Nancy' is the author of Authorized Visitors and her new collection, Between the Rows, has just been released. Her work has appeared in various online and print journals and in several anthologies. Nancy says one of the best compliments she ever received was a friend's comment about one of her poems: "I don't like poetry, but I like this." Learn more about Nancy, who lives in Camp Springs, Kentucky, at https://jentsch8.wixsite.com/my-site.
Wilda Morris:
Excellent descriptive phrases!
Posted 01/03/2023 06:24 PM
Sharon Waller Knutson:
I love this poem for its simple and sparse beauty. Favorite images: "sun uncorks bubbly" and "winter's ash-sick sky."
Posted 01/02/2023 11:21 AM
cork:
I like the color spaces in line six.
Posted 01/02/2023 09:20 AM
Larry Schug:
Return of the sun--definitely poetry worthy.
Posted 01/02/2023 08:23 AM