At ten, I whispered into my wristwatch
pretending to be Dick Tracy in the comics.
Who knew at sixty-five I'd talk to my wrist
for real, and be explaining Dick Tracy
to my grandchildren.
If a watch can be a working phone, what else
never before imagined could come to be?
Could we suck the carbon from the air?
Stop a hurricane? Vanquish a forest fire?
It's no longer science fiction to converse
on a screen with a colleague a continent away.
So is it outrageous to hope that in fifty years
we won't fear cancer any more
than the common cold?
Dictating to the device on my wrist
I make a list of items now obsolete:
typewriters, phone booths, slide projectors,
and the naive notion that the world
will always stay the same.


Š by Jacqueline Jules.
Used here with the author's permission.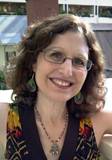 Jacqueline Jules is a former librarian who found herself intrigued by almost every book she put on the shelf.  As a reader and as a writer, she doesn't restrict herself to one genre. She is the author of 50 books for young readers on a wide variety of topics, including a poetry book for young readers on the joy of activity called Tag Your Dreams: Poems of Play and Persistence (Albert Whitman, 2020). Jacqueline is also the author of four poetry books for adults, including a collection of biblically inspired poems, Manna in the Morning (Kelsay Books, 2021). After 26 years in Virginia, Jacqueline has moved to Long Island to be closer to her grandchildren. Learn more about her at www.jacquelinejules.com.
 


Wilda Morris:
Excellent poem!
Posted 01/03/2023 06:23 PM
Lori Levy:
Like the talking to your wrist line. A lot to think about.
Posted 01/03/2023 01:40 PM
RonPoems:
Timely, positive, love it
Posted 01/03/2023 11:15 AM
Joan Luther:
The wondrous world where we live!
Posted 01/03/2023 08:28 AM
Larry Schug:
A lot to think about in these lines (and between them). The last two lines are simple, yet profound.
Posted 01/03/2023 07:49 AM
mail@schoolbusmart.com:
Great piece to ponder as the old passes into the new and potentially inconceivable. Thanks, Randy Mazie
Posted 01/03/2023 07:36 AM