That's right. Say it
out loud, now, with me.
"Nothing matters."
And, of course, you know
that the reverse is equally true:
Everything matters.
 
So, what's a person to do
with the best of intentions
trying merely to be kind,
living in a fashion free
from the vagaries of life's
sticks and stones?
 
Listen! You know.
Let go, because, really
nothing matters.
And, of course, you know, too,
when you can do that, it is exactly
because everything you do matters.

 
© by Arlene Gay Levine.
Used with the author's permission.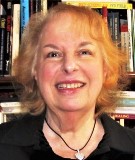 Arlene Gay Levine is an award-winning poet, author, and educator who lives with her husband in New York City. Her prose and poetry have been published in The New York Times, more than 30 anthologies, and in numerous literary journals. Arlene is the author of 39 Ways to Open Your Heart: An Illuminated Meditation (Conari Press,) and Movie Life (Finishing Line Press). Learn more about her at http://www.arlenegaylevine.com.
Anastasia:
"Committed detachment" is how I think about my approach to life!
Posted 02/25/2023 12:53 AM
Lori Levy:
Great advice and love the contradiction presented here.
Posted 01/28/2023 05:56 PM
cork:
What can the matter be?
Posted 01/28/2023 10:42 AM
Wilda Morris:
So true!
Posted 01/28/2023 09:13 AM
Larry Schug:
That's life in the human world, succinctly stated.
Posted 01/28/2023 07:40 AM
PmReid:
So contradictory, so true! A wonderful poem to get to the heart of the matter.
Posted 01/28/2023 07:11 AM