Yesterday the chimney sweep
told us there was a sandwich
on our roof.

This morning, as the sun opened
its eye on the horizon, those who left it
returned for their breakfast, clumsily
pecking above our heads.

Leaving my kitchen table, I walked outside
in the lifting grey and spotted them gazing back
over dark shingles glistening with frost:
two crows—quiet, satiated, and disappointed
I hadn't brewed them coffee.


© by Christel Maass.
Used here with the author's permission.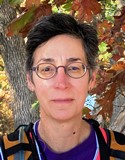 Christel Maass, who lives in Wisconsin, enjoys gardening, hiking, and exploring her beautiful home state.  She frequently writes about nature and her writing and photographs have been widely published. 
Anastasia:
Sounds like our squirrels! They take it very personally if I sleep in and don't refill the feeders first thing in the morning!
Posted 02/25/2023 12:54 AM
mlufk829:
Love this!
Posted 01/30/2023 03:49 PM
Wilda Morris:
A good laugh! I especially love the ending!
Posted 01/29/2023 10:03 PM
ghctenmile@earthlink.net:
Hello and thanks to you Christel for your poem Breakfast Sandwich--a real pleasure.
Posted 01/29/2023 08:21 PM
CamilleBalla:
I love the surprise ending your giving quiet voice/expression to the crows. Delightful.
Posted 01/29/2023 02:36 PM
Lori Levy:
Great. Love the humor.
Posted 01/29/2023 01:43 PM
Sharon Waller Knutson:
I love this wise and witty poem. My favorite lines were: "Yesterday the chimney sweep told us there was a sandwich on our roof" and "Two crowsquiet, satiated, and disappointed I hadnt brewed them coffee."
Posted 01/29/2023 11:29 AM
HazelGrammie:
Love this!
Posted 01/29/2023 10:13 AM
Gilbert Allen:
Delightful!
Posted 01/29/2023 09:32 AM
Angela Hoffman:
This made me laugh. (I too am from Wisconsin.)
Posted 01/29/2023 09:09 AM
plgoodman:
You made me laugh, always welcome in my post-operative world!
Posted 01/29/2023 09:09 AM
Tom Sharpe:
good poem, so few think of what animals think and why they do as they do.
Posted 01/29/2023 08:52 AM
Larry Schug:
I once found a slice of bread wedged in a tree branch. If crows spoke English, I bet they'd tell jokes about stupid humans. Enjoyable poem, indeed.
Posted 01/29/2023 07:53 AM
PmReid:
Too funny; just loved it!
Posted 01/29/2023 07:37 AM