When my day is dark and gloomy
And Iím looking for a friend,
or the path is hard to follow
and it seems to never end.

When the clouds of life are forming
and the chilling winds attack
and the monkey of discouragement †
weighs heavy on my back.

Who comes to me with strength and love
to help me find the way?
Who gives me shelter from the storm
and brightens up my day?

You are the sunshine of my life,
so warm and bright and fair.
If I can meet lifeís challenge,
itís because, sweetheart youíre there.


© by Russ Westwood.
Used with the authorís permission.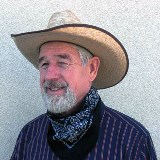 Russ Westwood was born in Moab, Utah. A great nephew of classic cowboy poet, S. Omar Barker, Russ was raised on a ranch and spent a lot of time around horses and rodeos growing up. Retired now from a career as a firefighter and paramedic, Russ appears frequently at cowboy poetry events throughout the West and Southwest. In 2019, he was awarded a championship buckle at the National Cowboy Poetry Rodeo. He has recorded one CD, ďThe Sheepish Cowboy.Ē Russ and his wife, Marge, currently live in Mesquite, Nevada.
Wilda Morris:
A good valentine poem. My favorite line: "and the monkey of discouragement weighs heavy on my back."
Posted 02/04/2023 10:11 AM
Anastasia:
Thank you, Russ!
Posted 02/01/2023 10:05 PM
DavidTookey:
Very, very nice. Thanks Russ!
Posted 02/01/2023 07:48 PM
Lori Levy:
Nice to read a tender poem of appreciation.
Posted 02/01/2023 12:26 PM
Darrell Arnold:
Wow, Russ: I didn't know you'd found your way to Jayne, but I'm glad you did. This nicely constructed poem expresses a sentiment common to all husbands, wives, and sweethearts. A dependable and loving partner is as good a blessing as anyone can receive.
Posted 02/01/2023 08:30 AM
Joan Luther:
Youve sung a melody for a romantic slow dance
Posted 02/01/2023 06:35 AM