Give me but a bit to eat,
And an hour or two,
Just a salad and a sweet,
And a chat with you.
Give me table full or bare,
Crust or rich ragout;
But whatever be the fare,
Always give me you.

This poem is in the public domain.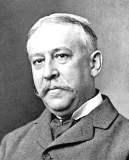 Arthur Macy (1842-1904) was born on Nantucket Island, Massachusetts to Quaker parents. Raised in New Hampshire and Detroit, Michigan, he served in the 24th Michigan Infantry, was wounded at the battle of Gettysburg, was briefly a prisoner of war, and worked for a time at the Naval Academy Hospital in Annapolis. An astute businessman as well as a successful poet, Arthur was reluctant about publishing his work; he felt his poetry was acceptable, but not brilliant. He was well known for his sense of humor and his cheerful disposition.
Anastasia:
What a sweet and fun verse! Thank you, Jayne!
Posted 02/13/2023 02:29 PM
Wilda Morris:
A wonderful poem for a valentine.
Posted 02/04/2023 10:09 AM
Arlene Gay Levine:
So much wisdom in Mr. Macy's short poem: the heart always wins! Great find....Thanks, Jayne.
Posted 02/02/2023 11:47 AM
mail@schoolbusmart.com:
Love the poem, the words ring true. Whatever the food, it's always you who puts the flavor in the stew and the cheese in my fondue! Randy Mazie
Posted 02/02/2023 10:06 AM
paradea:
My kind of love poem!!!
Posted 02/02/2023 09:50 AM
cork:
Ragu is a meat sauce. The spelling in the poem is from the French. The poem is delightful.
Posted 02/02/2023 09:39 AM
Darrell Arnold:
I agree with the idea of writing poetry simply because it is fun to do. There is great satisfaction in conjuring up the perfect words to express your feelings, tracking down the right rhymes that flow logically and naturally, and finding the perfect meter with which to present them all. The act of writing is its own reward. Still, it is also rewarding to get a nice "attaboy" from someone who reads your work. I hope ol' Art got an attaboy or two.
Posted 02/02/2023 08:32 AM
Joan Luther:
Jayne: I love that you dip into history with some of these poetsyou truly bring their words back to life. Thank you for YDP!
Posted 02/02/2023 08:20 AM