Would the woman who was seated in 14C
proceed to Baggage Claim to retrieve
one husband and four checked bags?
He regrets what he said on Kamaole Beach.
He didn't mean you looked overweight
in your Costco one-piece – although he maintains
you've griped incessantly about pounds
amassed during the quarantine.
He meant "rounding out" as a joke.
 
Truth is, I understand. Not
the fudging of his jibe – that was lame –
but additions to tummies and thighs.
Diets never work, so vanity's a vice I've trashed.
I'm at the age when ... but I digress.
Attention, 14C. Your husband's stuck
at the Alaska carousel. He's the one
pacing in a Hilo Hattie's shirt,
mopping heat off his sunburned face.

 
This poem first appeared in Global Poemic (2021).
Used here with permission.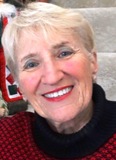 Carolyn Martin is "blissfully retired" in Clackamas, Oregon. She enjoys gardening, snorkeling, feral cats, backyard birds, writing, and photography. Carolyn says the only poem she wrote in high school was red-penciled "extremely maudlin," so she is amazed that she continued to write. Learn more about her at www.carolynmartinpoet.com.
Lori Levy:
Great!
Posted 02/04/2023 02:28 PM
joecot:
I'm that husband. Writing poems is my way of mopping sweat.
Posted 02/04/2023 01:46 PM
CynthiaB:
Delightful!
Posted 02/04/2023 01:28 PM
Sharon Waller Knutson:
Love this wise, witty, warm love poem. The title was a hoot but the biggest laugh came at the end: Attention, 14C. Your husbands stuck at the Alaska carousel. Hes the one pacing in a Hilo Hatties shirt, mopping heat off his sunburned face.
Posted 02/04/2023 12:03 PM
paradea:
Hahahahahaha!! A little truth in all kidding!!! Love it!
Posted 02/04/2023 12:00 PM
peninsulapoet:
What a delightful poem to begin the poetry reading day!
Posted 02/04/2023 11:22 AM
Wilda Morris:
Fun - with some truth to tell.
Posted 02/04/2023 10:07 AM
Darrell Arnold:
Shame on your high school teacher. SHAME. What a crock! There is nothing wrong with being emotional or sentimental in your poetry. Expression of feelings is everything. Now I'm angry. But your poem is funny and tells the story of the struggle we men have walking that narrow line.
Posted 02/04/2023 08:22 AM
Larry Schug:
Digression in a poem can be good, like a window added to a dark room.
Posted 02/04/2023 07:39 AM