Here's the thing: you start out listening,
you want to listen, but then
he goes off on some tangent,
or her voice takes on that drone
and you feel your attention
                    drifting,
your eyes glazing,
your expression freezing.
Guilt punches you in the gut
as you think, come on, now, be fair;
this is something that means a lot to him
or
You cad, she's worked hard to make
this project come together;
the least you can do is be supportive.
And you want to be.
You truly, truly want to be.
But it's her project, not yours;
his rant, not yours.
You care; really, you do…
but there's that movie coming on…
supper needs to get underway…
you were hoping to chat
with your brother about the Dow…
What's that?
No, no, I'm listening!
I love hearing about that;
tell me more!


© by Jayne Jaudon Ferrer.
Used with the author's permission.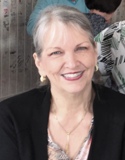 Jayne Jaudon Ferrer is the author of five books of poetry, a nonfiction book about games, and a novel, Hayley and the Hot Flashes. Jayne created www.YourDailyPoem.com in 2009 to share the pleasure and diversity of poetry. A former copywriter, magazine editor, newspaper columnist, and freelance journalist, her work has appeared in hundreds of publications. When not writing or reading, Jayne enjoys music, old movies, gardening, hiking, and good conversation. A native Floridian, she has lived in Greenville, South Carolina, for the past 28 years. Learn more about her at www.jaynejaudonferrer.com.
Tom Sharpe:
Headed home from National Cowboy Poetry Gathering, and all I can say is yep, you nailed it.
Posted 02/05/2023 05:32 PM
CamilleBalla:
Ditto to Michaels comment.
Posted 02/05/2023 01:42 PM
Lori Levy:
This is great, Jayne! You capture, with humor, something that happens more often than wed like to admit.
Posted 02/05/2023 01:39 PM
Sharon Waller Knutson:
I love this wise, witty wonderful love poem. Favorite lines: You care; really, you do but theres that movie coming on supper needs to get underway you were hoping to chat with your brother about the Dow Whats that? No, no, Im listening! I love hearing about that; tell me more!
Posted 02/05/2023 01:27 PM
cork:
I love the isolation of "drifting."
Posted 02/05/2023 11:00 AM
RonPoems:
You ask a question, to be nice, at the end and the speaker looks at you like you werent listening.
Posted 02/05/2023 09:55 AM
Gilbert Allen:
Problematically funny!
Posted 02/05/2023 09:12 AM
Angela Hoffman:
Yes, listening can be so hard.
Posted 02/05/2023 08:56 AM
Michael:
Well done, Jayne . . . and so life-applicable too. Who says poetry doesn't teach?!?!
Posted 02/05/2023 08:45 AM
tiddles:
A good reminder! I can be so easily distracted from listening and it's so embarrassing to be called on it. Thanks, Jayne. MZWindau
Posted 02/05/2023 08:30 AM
Wilda Morris:
So true!
Posted 02/05/2023 08:24 AM
Darrell Arnold:
This reminds me of my rides to town, 40 miles away, with my wife. What you would have to call me is "a captive audience." That teeming bucket of worms, which are the thoughts in her mind, just spill out, one at a time. So many ideas, thoughts, concerns. So I listen. The hard part is remembering any of it. That's where the issues begin.
Posted 02/05/2023 08:19 AM
mail@schoolbusmart.com:
Been there, heard that, felt that. And you precisely captured it. Now, excuse me, I have Sunday morning pancakes cooking. Gotta go. Good luck though with everything. Randy Mazie
Posted 02/05/2023 06:40 AM