My wife wants me to get
my wedding band resized
because it hasn't fit
since I lost weight. I stopped
wearing it months ago,
afraid I'd lose it, that
it would fly off again,
find its way down a drain  
or sewer grate, maybe
disappear in the lawn
among the rotting green
shells of the black walnut
that litter our backyard.
The weight of its absence
felt most when I bring her
hand into mine, lift it
to my lips, feel her cold
metal against my skin,
which sends her slight request
whirling into the air,
weightless and heavy all
at once, just like our vows,
which are as snug today
as the day we spoke them,
easier to honor
than they are to forget.

 
From House Bird (Terrapin, 2022).
This poem first appeared in Paterson Literary Review No. 48 (2020).
Used here with permission.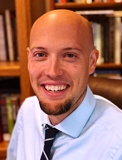 Robert Fillman is the author of House Bird (Terrapin, 2022) and November Weather Spell (Main Street Rag, 2019). His poems have appeared in a variety of venues. Robert holds a Ph.D. in English from Lehigh University and teaches at Kutztown University. Learn more about him at www.robertfillman.com.
Anastasia:
I now wear my wedding and engagement rings on my pinky finger, as arthritis makes it impossible for me to get them over the knuckle on my ring finger. My husband has offered to have them resized, but I'm going to wait until they no longer fit on my pinkyI don't want to be without them twice! It's such a comforting and familiar weight.
Posted 02/06/2023 11:11 PM
Lori Levy:
Especially like the line that begins, The weight of its absence
Posted 02/06/2023 02:15 PM
Sharon Waller Knutson:
I too can relate to this poem because I lost my cherished solitaire diamond wedding ring after a shopping trip when my finger shrunk. These lines echo my sentiments also: weightless and heavy all at once, just like our vows, which are as snug today as the day we spoke them, easier to honor than they are to forget.
Posted 02/06/2023 11:58 AM
KevinArnold:
Yes, there can be no surfeit of love poems. So good I looked up Kutztown, which is close to where I live, Klutztown.
Posted 02/06/2023 10:01 AM
tkelly424:
Really enjoyable read I can identify with Robert!!
Posted 02/06/2023 09:56 AM
Wilda Morris:
I identify with Cork - my wedding ring was cut off my finger when I had carpel tunnel surgery. This is a nice love poem.
Posted 02/06/2023 09:41 AM
cork:
My ring finger has been bare since the operation on my left hand. Empty.
Posted 02/06/2023 09:28 AM