You ask me, love, to build a potting shed.
A friend lets me rummage through heaps of raw
material. ďMy ruined barnĒ he says.
I gather up my square, my chalk, my saw,
and scrounge for weathered planks, for grain thatís straight
with no ungainly warps, cracks, rot, or knots.
My measure of the whole, each board must mate
before I cut and fit with care and thought.
A potting shed contains but one concern:
earthís elements, their smells. Itís your escape.
I craft two small windows, then hang a fern
above the door between: a faceís shape.
Best wood, best order, from an old barnís tilt.
For you, a gift, and how this sonnetís built.


© by Eric Forsbergh.
Used with the authorís permission.
†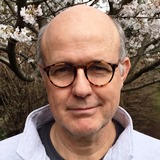 Eric Forsbergh retired from a career in dentistry in 2020, but then volunteered to be a Covid vaccinator for Loudoun County, Virginia. He has participated in dental mission trips to Guatemala and Appalachia and recently earned a Master's level certificate in Biblical Justice from the John Leland Center for Theological Study. A Vietnam veteran, Eric is the author of one book, Imagine Morning, and has published more than fifty poems in various venues. When not writing or studying, he enjoys spending time with his two energetic and highly curious grandsons at his home in Virginia.
peninsulapoet:
Lovely
Posted 02/07/2023 02:35 PM
Lori Levy:
Very loving.
Posted 02/07/2023 12:45 PM
Leslie Hodge:
Wonderful!
Posted 02/07/2023 12:38 PM
tkelly424:
Well crafted indeed Eric! Thanks for sharing!!
Posted 02/07/2023 10:12 AM
paradea:
Great!!!
Posted 02/07/2023 09:51 AM
cork:
There is an art to building sheds and poems.
Posted 02/07/2023 09:34 AM
RonPoems:
A fine display of sonnetry and love. Thank you
Posted 02/07/2023 09:06 AM
Larry Schug:
A lesson in carpentry, poetry and love, all done with exacting care.
Posted 02/07/2023 07:50 AM
CynthiaB:
What a delightful expression of love!
Posted 02/07/2023 07:36 AM
Lucy:
Sweet poem. Amazing poet! God bless you, Eric!
Posted 02/07/2023 05:48 AM