I shall gather myself into myself again,
   I shall take my scattered selves and make them one,
Fusing them into a polished crystal ball
   Where I can see the moon and the flashing sun.

I shall sit like a sibyl, hour after hour intent,
   Watching the future come and the present go,
And the little shifting pictures of people rushing
   In restless self-importance to and fro.


This poem is in the public domain.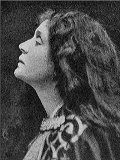 Sara Teasdale (1884 - 1933) was a Missouri-born poet afflicted with poor health from birth. She loved one man but married another, divorced, lost her best friend to suicide, and eventually committed suicide herself. Ironically, a majority of her poems are about love and beauty, and she won the first Pulitzer Prize for poetry in 1918. There are some similarities to be drawn between Sara and Emily Dickinson; both were reclusive, both wrote intensely personal poetry that frequently focused on nature, both knew unrequited love.
Anastasia:
Sara Teasdale is one of my favorite poets. Thank you, Jayne!
Posted 02/08/2023 01:20 PM
CynthiaB:
Hmm... the restless self-importance of other people contrasting with her own withdrawal from life... such melancholy. Very moving.
Posted 02/08/2023 11:47 AM
KevinArnold:
Of course, at some level, from their very creation, all poems are love poems. And I agree w/Janice about the opening line--it's marvelous, a great line to start a meditation, especially with that "again."
Posted 02/08/2023 11:41 AM
pwax:
Beautiful poem, but what a sad life.
Posted 02/08/2023 11:39 AM
Janice Galt:
I love the opening line!
Posted 02/08/2023 11:12 AM
paradea:
Good one!!
Posted 02/08/2023 10:38 AM
joecot:
The man she loved but did not marry was Vachel Lindsay, a brilliant nutcase of a poet who tramped by foot around the country trading a poetry recitation for a night's lodging. I love picturing the isolated farm families who gave him lodging, what they must have thought of him. Sara clearly thought highly.
Posted 02/08/2023 10:02 AM
joan:
beautiful
Posted 02/08/2023 08:51 AM
mail@schoolbusmart.com:
Harumpf, the sad lady, self-imposed, twisted herself, turned up her nose, wanting only to be a crystal ball, but I could only see her fall. Sadly, sadly, that was all. Randy Mazie
Posted 02/08/2023 08:22 AM
Nicholas:
Sublime!
Posted 02/08/2023 05:26 AM