I would have stood on your hot
Missouri porch for hours,
holding my bouquet of flowers
to show you that my thirst
for your affection was preferable
to suitors Lindsay and Ernst.

Although the bright Missouri sun
would the flowers wilt, I will stay
Till you kissed me away.
A puff across your hand,
direct to me, to show you understand,
or is your sweet breath to send
my fate into the winds.


© by Robert Manchester.
Used with the authorís permission.
†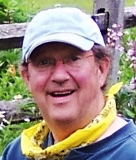 Robert Manchester (1943 - 2022) was born and raised in New Hampshire, surrounded by leafy trees, stone walls, and memories of Robert Frost, Jane Kenyon, Donald Hall, and Richard Eberhardt. He wrote and published poems for 50+ years, admitting that he much preferred writing to submitting, although his work appeared in print frequently. Robert especially enjoyed writing "edgy" poems, he said, about "the underbelly of life--the junk cars, tumbledown trailers, goat pens in the front yard, and the like." In addition to being a poet, he was a lifelong gardener and devoted volunteer at many charitable, educational, and public organizations.
†
†
Anastasia:
This is wonderful, and I'm so glad you shared it with us, Jayne!
Posted 02/09/2023 03:13 PM
paradea:
Robert was one-of-a-kind!! Good poem!!
Posted 02/09/2023 10:31 AM
Michael:
No wonder this poem made the cut of great love poems in this series, Jayne. So well done.
Posted 02/09/2023 09:39 AM
cork:
An artistic treatment of love and affection.
Posted 02/09/2023 09:15 AM
Larry Schug:
A poem worth remembering you for, Robert. I'm sure you are greatly missed by all who knew you.
Posted 02/09/2023 07:44 AM