Four silver bells
on the ten inch piece
of cracked old leather
Mother saved
from the homestead
can whisk me back in time
more than a hundred years
Shake in sync
with the trot of horses
and I become my mother
tucked between her parents
in the sleigh.
Frankie and Dickie
know the way home
nostrils blowing steam
in the cold night full of stars
Bundled in quilts and happiness
believing the whole world
is at peace.


This poem first appeared in The Talking Stick (2016).
Used here with permission.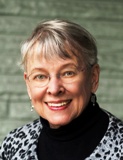 Peggy Trojan published her first poem when she was 77. (She's now 89.) Retired from teaching English, she lives in the north woods of Wisconsin next to a trout stream, where she writes and tends a raspberry patch so she can make jam. Peggy is the author of two full-length poetry collections and five chapbooks. Her newest release, PA, won second place in the 2022 Wisconsin Fellowship of Poets Chapbook Contest and won an Honorable Mention in the Poetry category of the 2022 Northeast Minnesota Book Awards.

USAngel58:
Special memories were brought alive once again with this poem! Thanks for sharing!
Posted 02/21/2023 03:59 PM
Anastasia:
What a magical memory to share, and a lovely poem! I have a set of sleighbells on the inside of my front door from my mother. She bought them as a Christmas decoration when I was very young, and would come into each of our bedrooms on Christmas morning, shaking the bells to wake us up to open presents. Thank you for refreshing this memory for me!
Posted 02/21/2023 02:24 PM
Lori Levy:
Beautiful!
Posted 02/21/2023 01:49 PM
cscoville:
I just traveled back in time through the magic of this poem. Thank you, Peggy, for that experience.
Posted 02/21/2023 10:30 AM
Angela Hoffman:
I too was at peace reading this poem. Could hear the bells!
Posted 02/21/2023 08:51 AM
KevinArnold:
Oh yes. So glad Peggy took the plunge into poetry at 77. Not a minute too soon . . . or too late.
Posted 02/21/2023 08:47 AM
Darrell Arnold:
My house is full of stuff -- all reminders of days and people gone by. Dad's and Grandpas' (paternal and maternal) spurs, and chaps, and watches, cow hobbles, horn weights, hay hooks, etc. I still wear, every day to work, bolo ties my grandfather used to wear. These things, and so many more, are from whence I came and who I am. Being surrounded by these things is where and how I want to live and die. Thank you, Peggy, for the nod to family heritage.
Posted 02/21/2023 08:42 AM
Larry Schug:
Being a bell collector, with a set of sleigh bells in my collection, I very much enjoy this poem. A bell tells a story every time it's rung. Thank you so much, Peggy.
Posted 02/21/2023 08:25 AM
Michael:
This poem paints a picture with words . . . which is one of poetry's goals. Congratulations and well done, Peggy!
Posted 02/21/2023 07:41 AM
Joan Luther:
Ahhh, sweet nostalgia.
Posted 02/21/2023 06:48 AM