It must have something to do with canine constellations
and dog days dragging in late season frustrations,
this love-hate thing I have with August, making it
in my estimation the armpit of summer.

My reasons likely make no sense, but the eighth month
is a bit of a bummer, despairing me with merciless monotony,
then impairing me with restive melancholy,
this month made hellish with heat and haze,
sticky humidity and languid days.

Itís a month when gardens ripen short of reaping,
when vacations wane in the weeks preceding
the start of school and return to work, when sports
overlap and wasps go berserk, crazy with hunger.
August makes me lament that Iím not younger, too,
when payment for the pleasures of June and July
come due, and my mind grows impatient for something new.

Itís a month of time dribbling down in drips,
of grass burned brown and brittle as twigs,
of days that sour by mid-afternoon and nights
grown longer in increments of gloom. August crawls
thirty-one days into September and an inevitable fall,
making me feel every minute of its month long,

but how I wish I could have itóheat, humidity, and all,
once February arrives and reminds me why
I dream of August again despite its flaws.


© by Mike Orlock.
Used with the authorís permission.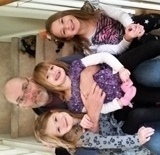 Mike Orlock is a retired high school English and American History teacher who divides his time between the Chicago suburbs and a vacation home in Sturgeon Bay, Wisconsin. He has been married for 46 years to his high school sweetheart and inspiration, Liz, and greatly enjoys being grandfather to five beautiful granddaughters who keep him, he says, "jumping like a frog on a hot skillet." Mike's short stories, poems, and reviews have appeared in a variety of publications and he is currently serving as Poet Laureate of Door County, Wisconsin, a position he will hold for the next two years. Mike's latest book is Toes, Toads, tulips & Turtles, released last fall.
TheSilverOne:
Wonderful description of our home state. A joy to read. ~ Doris Bezio
Posted 03/02/2023 02:06 AM
Wilda Morris:
Well-done, Mike!
Posted 02/24/2023 09:01 AM
Lori Levy:
Great ending and great lines about August.
Posted 02/22/2023 01:24 PM
cscoville:
What a wonderfully accurate description of August, which lasts through September and part of October in Texas!
Posted 02/22/2023 10:46 AM
cork:
I love the warmth as I watch the February storm unfold outside my window.
Posted 02/22/2023 10:44 AM
Angela Hoffman:
Yess! This is so relatable to those of us living in Wisconsin.
Posted 02/22/2023 10:39 AM
Larry Schug:
Yeah, but those dang deer flies go away in August. February, I agree. We've got 20" of snow heading our way today. Kudos on being named Poet Laureate of Door County.
Posted 02/22/2023 07:41 AM