then the pileated woodpecker
would be a nail-gun and the
clutch of chickadees would be
metric nut drivers, squirrels
supple chamois, and the singular
nuthatch a leather awl, best held
tightly and completely vertical.

 
This poem first appeared in the Red Cedar Review (2019).
Used here with permission.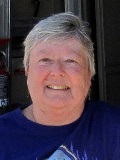 Yvette Viets Flaten was born in Denver, Colorado, and grew up in an Air Force family, living in Nevada, North Dakota, and Washington State as well as France, England, and Spain. She holds a Bachelor of Arts in Spanish and a Master of Arts in History, and her award-winning poetry has appeared in numerous journals. Yvette now lives in Eau Claire, Wisconsin, near the mighty Chippewa River.
TheSilverOne:
Original idea, delightful poem ~ Doris Bezio
Posted 03/02/2023 02:00 AM
Wilda Morris:
I love this poem! Very creative! I can see all those birds in the roles you defined for them.
Posted 02/24/2023 08:59 AM
Lori Levy:
Original idea to see the bird feeder as a toolbox.
Posted 02/23/2023 05:21 PM
Janice Galt:
Loved this and love feeding a number of the birds Yvette mentioned.
Posted 02/23/2023 01:37 PM
Michael:
Delightful, fresh, original. Never thought of these feathered friends in just "that" way before. Poetry at its creative best. Thank you, Yvette.
Posted 02/23/2023 06:42 AM