Three teen deer have begun of late
to make daily dusk-time stops out back,
their flat flanks and thick, angled necks
depicting stumps and trunks that then
move and materialize and re-blend
as their busy muzzles forage-and-
freeze them across the far lawn. How
ever inventive their camouflage. Of course,
once I look up, so do they, slightly
white faces and twice-twitching ears
alert to any budge.† And if I stand,
even gradually as a yogi, they hop
and spin and crash backward into
slits that open in the brush and oaks
that just as quickly close behind them.
Iím showing you nothing you donít
know, and know you also know that
it doesnít matter, that you, too, would stop,
lift your face, and love them every time.


From If god were gentle (Dos Madres Press, 2017).
This poem first appeared in Peacock Journal.
Used here with permission.
†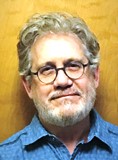 D. R. James is a poet, author, copywriter, and editor who lives with his psychotherapist wife in the woods near Saugatuck, Michigan. His latest of ten collections are Mobius Trip and Flip Requiem (Dos Madres Press, 2021, 2020), and his prose and poems have appeared internationally in a wide variety of print and online anthologies and journals. Recently retired after nearly 40 years of teaching college writing, literature, and peace studies, D. R. enjoys birdwatching and cycling when he isn't writing. Learn more about him at
https://www.amazon.com/stores/author/B00IW6KT3W/about.
Adriana:
Agree with PmReid comment below. Lovely captured and shared motion and emotion. Beautiful last four lines.
Posted 03/02/2023 11:00 AM
ghctenmile@earthlink.net:
Thank you, D. R. Thomas. O boy, you got 'it' --"lightening in a bottle" !
Posted 02/28/2023 05:16 PM
Anastasia:
This is beautiful! Our only local wildlife are the squirrels, which are insouciant and don't know the word "caution"!
Posted 02/28/2023 01:57 PM
Lori Levy:
Beautiful portrayal of deer.
Posted 02/28/2023 01:06 PM
Tom Sharpe:
I am totally amazed at how aware of their surroundings animals are and equally amazed how unaware people are. Good poem.
Posted 02/28/2023 10:40 AM
KevinArnold:
Ambitiously difficult point D R James is getting at. They judge this with gymnastic routinesthis would score 4.0 in degree of difficulty for sure. Nice poem.
Posted 02/28/2023 10:12 AM
cork:
The deer paw holes in snow to find food.
Posted 02/28/2023 09:34 AM
MLove:
That's exactly how it is at my house too! I watched the other day as they startled at the tiniest blue light and the softest click of my outdoor security camera which only recorded them bounding away.
Posted 02/28/2023 09:02 AM
PmReid:
Very beautiful. A true animal and nature lover wrote this and I appreciate it!
Posted 02/28/2023 07:36 AM
Larry Schug:
How privileged are folks like you and I are to have the opportunity and wherewithal to learn life's small lessons from and in nature. The question is how can we share this with others not so fortunate. Our gift of poetry is one way.I like the movement portrayed in this poem as well as its art.
Posted 02/28/2023 07:32 AM